Blazers fall to Clippers in season's final road game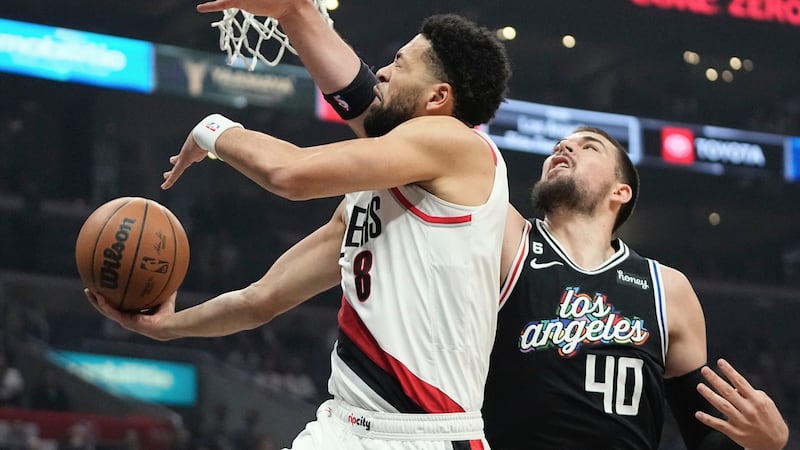 Published: Apr. 8, 2023 at 3:38 PM PDT
LOS ANGELES (AP) - Kawhi Leonard scored 27 points, Norman Powell added 23 and the Los Angeles Clippers solidified their hopes of avoiding the play-in game with a 136-125 victory over the Portland Trail Blazers on Saturday.
Russell Westbrook had 20 points for the Clippers, who have won four of their last six and hold the fifth spot in the Western Conference.
SEE ALSO: Portland Trail Blazers sign 10-day deal with forward Justin Minaya
Wins by LA and Minnesota on Saturday ensured the Clippers can finish no lower than seventh. Their best hope of avoiding the play-in game though is beating Phoenix on Sunday in what could be a preview of a first-round series.
Kevin Knox II had 30 points, Shaedon Sharpe 26 and Trendon Watford 24 for the Trail Blazers, who have dropped three straight and eight of their last nine.
Portland led 70-64 at halftime before the Clippers went on a 14-2 run early in the third quarter to gain control.
The Trail Blazers rallied to get within 86-85 on a 3-pointer by Knox before the Clippers put it away for good with a 23-7 spurt.
Leonard had 13 points in the third quarter as the Clippers were 15 of 24 from the field, including eight 3-pointers.
Los Angeles' largest lead was 19 in the fourth quarter.
TIP INS
Trail Blazers: In the first half, Sharpe had 21 points on 8-for-12 shooting; while Watford added 18 while going 7 of 9. ... Shaquille Harrison had a career-high 11 assists.
Clippers: Ivica Zubac had 14 points and 10 rebounds for his 27th double-double, which is new career high in a season.
UP NEXT
Trail Blazers: Host Golden State Sunday in the season finale.
Clippers: Travel to Phoenix Sunday in what could be a first-round preview.
Copyright 2023 KPTV-KPDX. All rights reserved.