Finally! Confidence growing that a warm and dry stretch on tap during last week of April
Published: Apr. 20, 2023 at 9:22 PM PDT
What a soaker this Thursday evening. A warm front has dropped plenty of rain this afternoon/evening. Portland is up to 4.65″ rain for the month as of 8pm this evening. That just about puts us into the "Top 5″ wettest Aprils.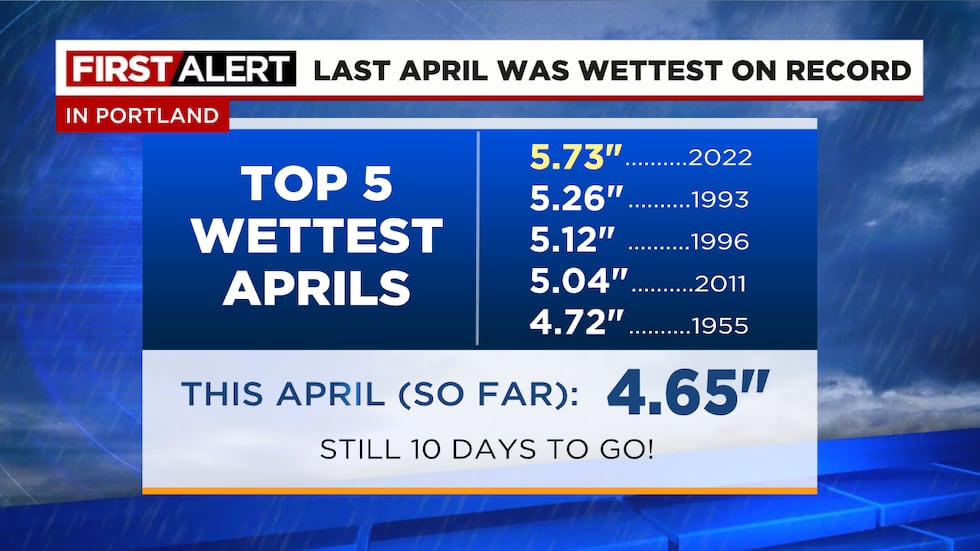 Maybe more interesting is that last year's wettest "ever" April followed the driest April on record in 2021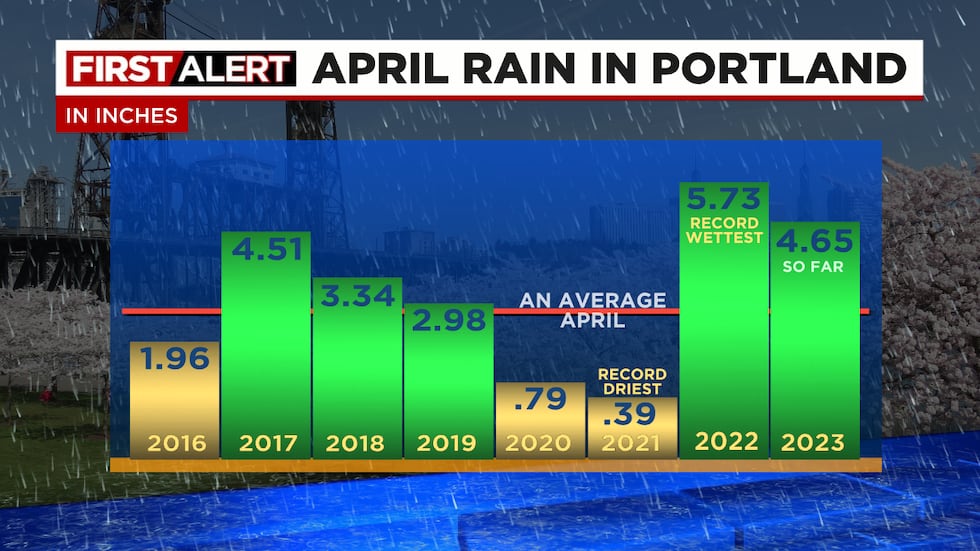 Tonight's system will shift east and we'll see very little rain tomorrow and Saturday. Most likely less than .10″ west of the Cascades. Of course it was very cold (for late April) today too...our 2nd coldest day of the month and we couldn't even make it to 50 degrees! Our typical high is 63 this time of year
SUMMARY
This spring has been the coldest/wettest since 2017, or 2010, or 2008. The ranking depends on how you measure it.

This spring has not been "unusual"; it's just that we're getting a cold/wet spring. Every few years it happens. One could argue it's very likely that NEXT spring will be warmer/drier than this year. Or at least warmer, or drier (maybe not both).

The cold/wet spring has delayed the spring melt in the mountains

This has likely been the toughest start to the gardening season we've seen since 2010/2011. Cold soil and lots of rain!
WHAT'S AHEAD
During these cool/wet springs, all of us are looking for that first warm/dry spell. You know what I mean; several days of sunshine plus a dry easterly wind, pushing temperatures up around 65-75 degrees. Glorious... In MOST years, we see that in late March or early/mid April. But in these cool/wet springs, sometimes it doesn't happen until late April or even May!
The good news is that we finally see a significant change on the horizon and it's just a few days away. Of course we've been extra wet and cool because the north Pacific jet stream has remained a bit farther south than normal. But ALL models agree the jet will shift north next week, leaving us dry beginning Tuesday and that likely continues for at least the following 5-6 days. Look at the flow up around 18,000′ for tomorrow (500 millibars). Flat flow, but we're on the warm side of the jet stream. The result is warmer weather both tomorrow and Saturday. In fact that day should be the warmest so far this month.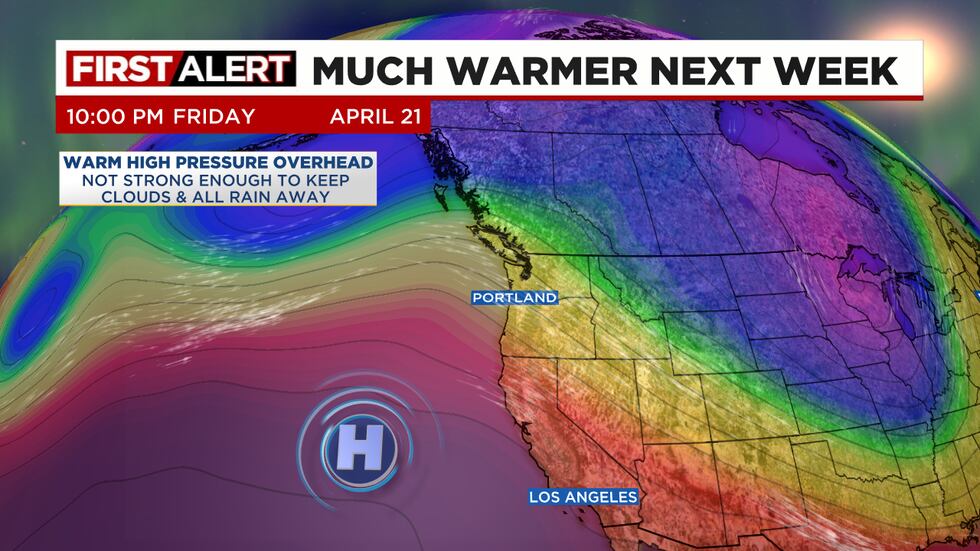 One last cold trough swings through Sunday night and Monday morning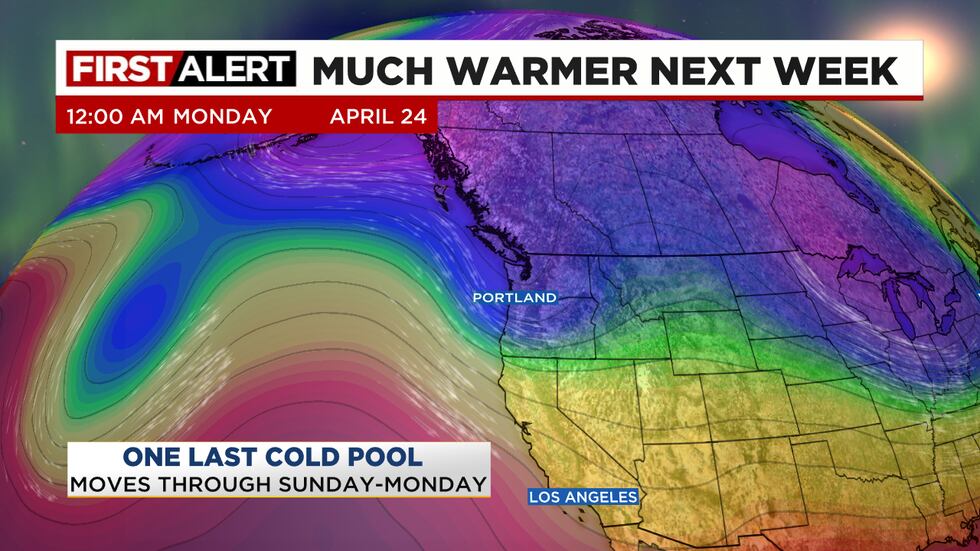 Then by mid/late next week a strong ridge forms along the West Coast. Here's Thursday
That's a pattern that gets us into the 70s or even 80s in late April. All model ensemble averages are around +10 deg (C) at 850mb next Tuesday through Thursday. Those averages, along with sunshine and weak offshore low level flow, pushes us into the 73-78 degree range. Possibly even 80. Operational model runs are as warm as +14 to +16 which would push us into the low to mid 80s! Regardless, it's going to be quite a chance compared to upper 40s today...
Is it possible that this will be the 3rd time this month we end up far cooler than models initially showed? Yes, but this time is different because models aren't backing off as we get closer. And there is great ensemble agreement unlike earlier in the month. Notice the Euro ensemble 24 hour rain chart for the next two weeks. The vast majority of ensemble members (horizontal lines) go dry after Monday for at least 4-7 days.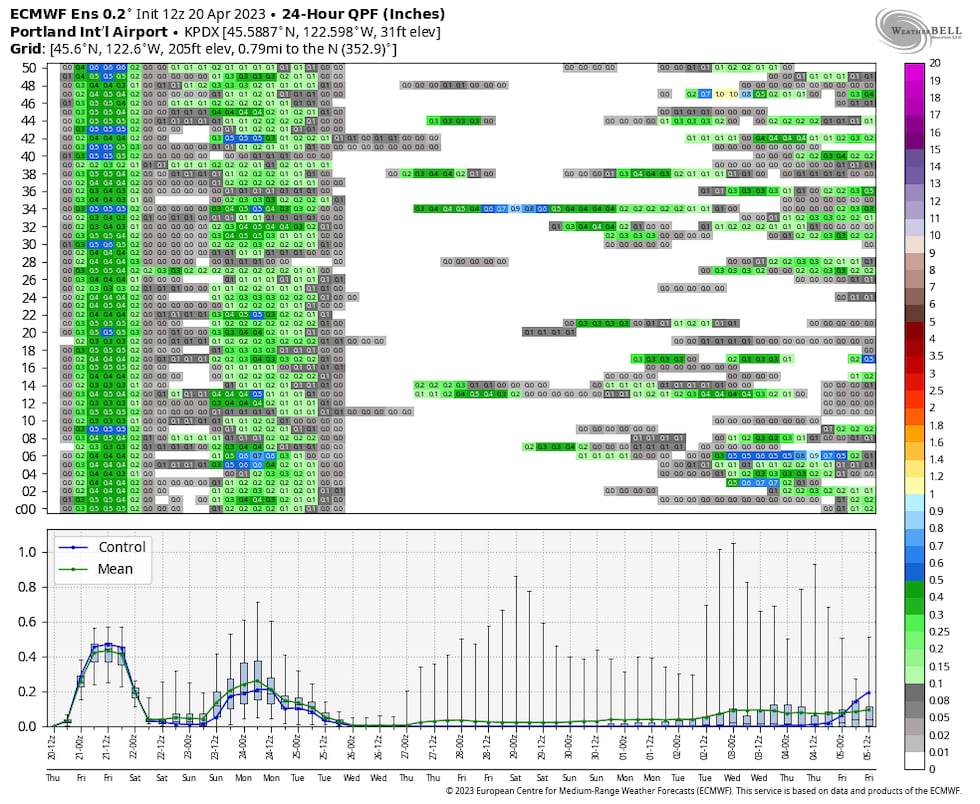 IF we get to 80 next week, that won't be unusual for April. About 1/2 of recent Aprils have featured an 80 degree temperature.
That's it for tonight, enjoy the (slightly) drier weather tomorrow and Saturday.
Copyright 2023 KPTV-KPDX. All rights reserved.