Warm and dry spell begins Tuesday; plus what we see for early May
Published: Apr. 24, 2023 at 7:17 PM PDT
I think just about all of us are ready for the well-advertised warmup this week. Some were doubtful after 2 aborted warming forecasts, but this time models have been in great agreement that we'll finally see much warmer than normal temps for the first time this spring.
KEY POINTS
We have at least 5 consecutive dry days on tap (Tuesday through Saturday). The next CHANCE for showers is Sunday

Afternoon high temperatures climb above normal Tuesday, then soar to 15-25 degrees above normal Wednesday through Saturday

No HOT weather is expected. Even when we hit 85+ this time of year, much of the day is spent in the 60s and 70s...it ain't summer!

The cooldown will be dramatic, and likely on Sunday. Temperatures drop 20-30 degrees from Friday's high in the 80s.

I don't see a return to excessively wet/cool weather NEXT week. The first week of May will just feature normal temps/rain, not the really cold stuff
ALL THE DETAILS
I just checked the numbers for spring so far...generally it's the coldest in 15 years west of the Cascades.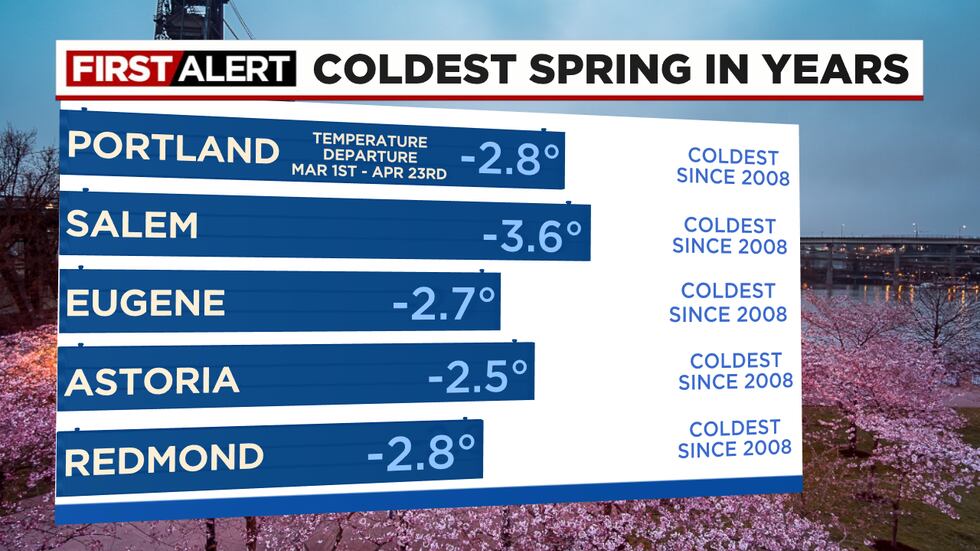 It's the 4th wettest April on record in Portland. We sure won't make it to #1 since the only rain left will be some really light stuff on Sunday the 30th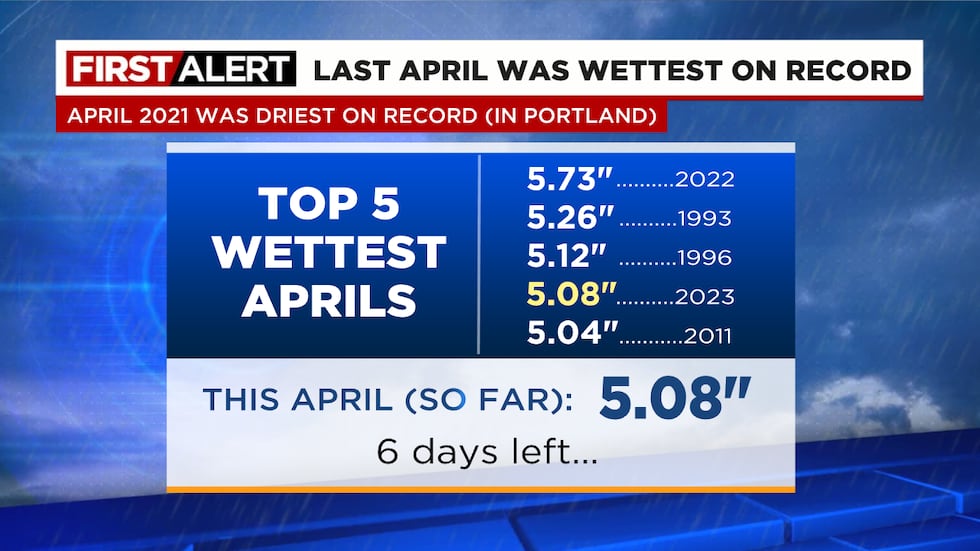 So we've got a big change ahead. For the first time this season a strong upper-level ridge of high pressure has begun developing in the Eastern Pacific. That ridge (where the jet stream moves well north of us) sits right over us through Saturday. Here's the view Wednesday at 18,000′
Now by Friday midday the ridge is directly overhead.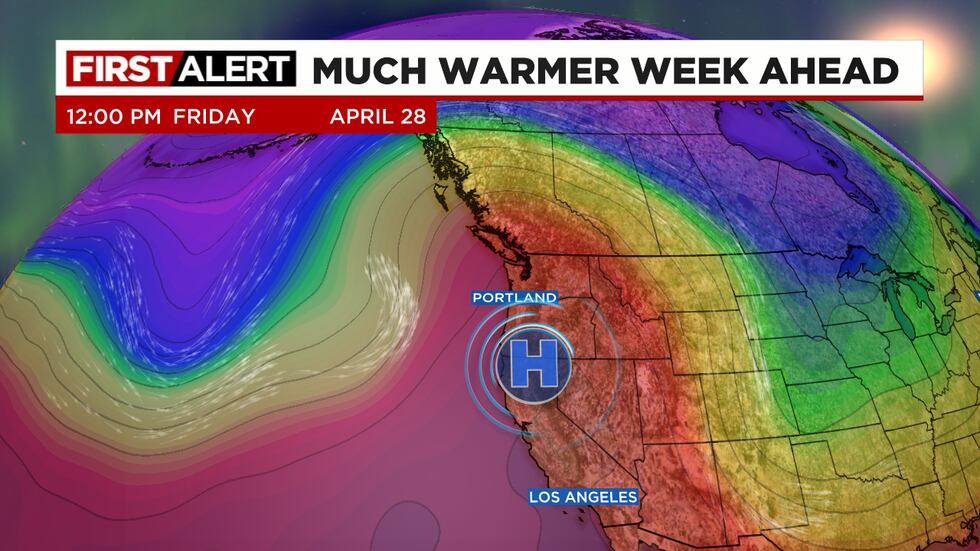 When that happens we get a low-level easterly flow over the Cascades and through the Gorge. Regular viewers/readers know that anytime we get east wind from April to early October...it's a "warm" wind. I mean much warmer than normal. Heating is maximized in this setup, thus Friday is the warmest day in this warm stretch. If you look closely at the chart, you see a little wiggle in the flow to our west. That's an upper-level disturbance that passes by Friday night and Saturday, flattening the ridge a bit. This is a signal that we lose the east wind Saturday, but at this point I don't see a strong onshore flow. So I think "summer" will continue for one last day Saturday. Then a major marine push of cool air surges inland Saturday night along with a cold front. That combination will likely drop us 15-25 degrees in one day...Saturday is the warm day this weekend. By Monday, an upper-level trough has replaced the warm ridge, although it appears weak/splitty.
I've shown the ECMWF model here, but ALL models agree on the same setup the next 7 days. Note that cloud cover is minimal or non-existent from midday tomorrow through Saturday in the western valleys of NW Oregon and SW Washington.
he big question in this setup? How warm do we get in the lowlands? For that we use 850 millibar temps. That's the temperature up around 4,000′ or so in Celsius. The highest on record (from Salem historical soundings) for the month of April is +20. That was set in 2016; read about it in this blog post from 7 years ago. Several major model (ECMWF, GEM, GFS) ensemble averages are showing: +10 to +12 Wednesday, +13 to +16 Thursday, +17 to +19 Friday, and +12 Saturday. That +18 average for Friday is right up near that historic high for April! That puts high temperatures that day between 85-90 degrees with the easterly wind and full sunshine. That's why we're forecasting a record high for Friday and my gut feeling is that we're going to see spots hit 90 for one day.
How warm CAN it get in April? Since 1940, we've hit 90 once. That was the last day of April 1998. Clearly Friday will be one of the top 5 warmest days we've seen in April.
So the forecast is pretty clear cut now; enjoy the warm sunshine. My grass (up at 1,000′) has barely started growing and I haven't even attempted to plant even the cold weather veggies. This will be a nice kick-start to warm the ground. How about that first week of May? Models are hinting that trough offshore model "pinches off" and it heads for California much of NEXT week. The 7 day rain forecast for May 1st to May 8th isn't especially wet over the Pacific Northwest. This is the ensemble average from last night's Euro run. It's wet at times in California, which doesn't leave us dry. But it's also not a soaking wet pattern for us.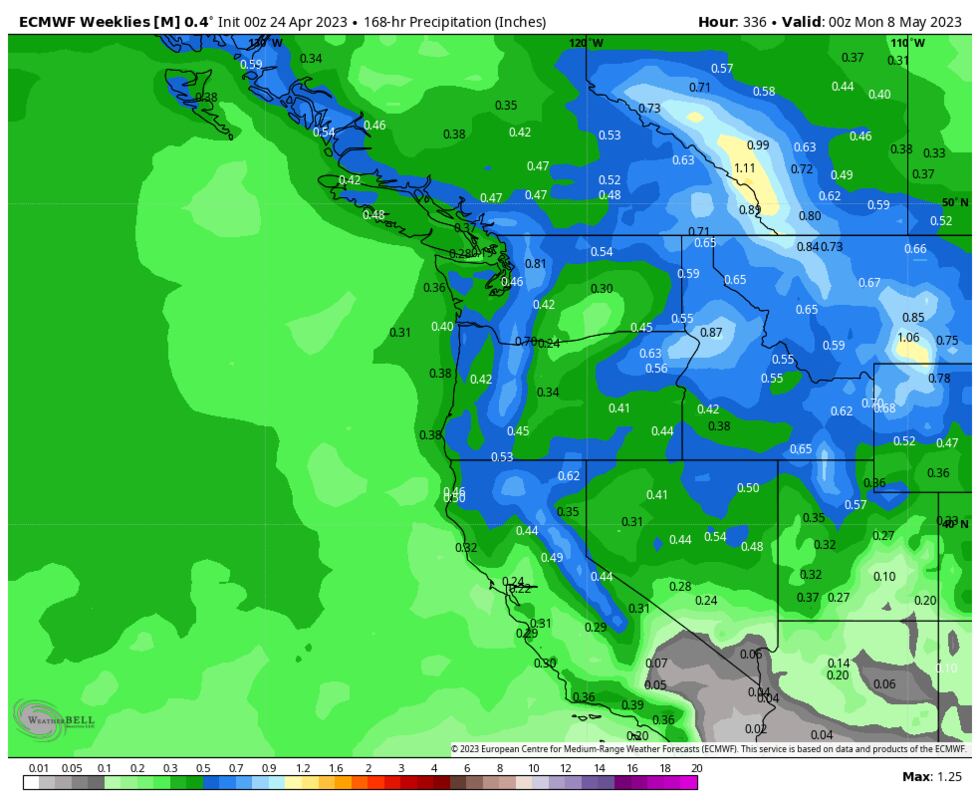 So I think the weather next week will feature pretty typical early May stuff. You can add about 5 degrees to most days of this ECMWF ensemble forecast for the next two weeks. Lots of highs in the 60s will follow this abnormally warm event. Much better than the upper 40s and 50s that have dominated most of April.
Enjoy the dry days ahead!
Copyright 2023 KPTV-KPDX. All rights reserved.