Evening downpour recap, plus a rare May heatwave on the way
Published: May. 8, 2023 at 9:19 PM PDT
Well that was fun this evening! We DID expect off/on showers today, but much of the day was drier/nicer than expected. But once those showers popped up they really delivered the rain. The view during our 4pm show...
Dozens of lightning strikes hit mainly west and south metro areas as the downpours moved south/east across the area. By 6-7pm a more widespread area of slightly less intense showers developed over Clark county and all of the eastern metro area. How much rain? Take a look at spots that picked up more than .50″ as of 8pm this evening. Notice most of this heavy rain is over south/west metro
And a few stations picked up almost 1″ rain in one hour. Fire Station #18 picked up about 0.92″ in one hour in SW Portland (tall red bar). This is from Portland's HYDRA network
The showers popped up in the unstable atmosphere on the west side of an upper-level low. That low is in Eastern Oregon; it'll move farther away the next 24 hours. That should keep us dry tomorrow. In fact other than some pop-up showers over the Cascades Wednesday, most likely we won't see any rain for the next 7-10 days west of the Cascades and Portland metro area.
WHAT'S AHEAD
We are headed into a 1-2 week period of warmer and drier than normal weather. There will be very little (or no?) rain in the next 10+ days

Record setting May heat is likely for Mother's Day weekend, possibly extending into early next week. Models are in excellent agreement.

The next 3 days will be quite nice though!
Take a look at the 500 millibar view for tomorrow. This is up around 18,000′. Notice we still have weak "troughiness" overhead; temperatures remain near normal but showers move farther east into Idaho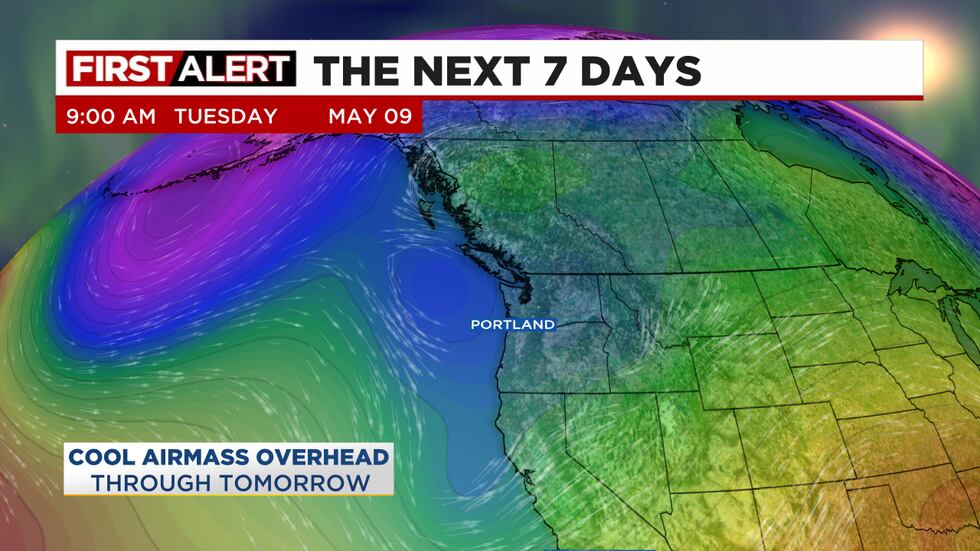 By Thursday, the troughs are gone and you can see warmer air arriving overhead. Weak May jet stream is up around the dark blue area. Most clouds and all rain stays to our north
But then a very big change the following two days. By Saturday it looks like this!
A "closed" upper level high has formed right in the same area where the big June 2021 heat dome developed. This is in a "perfect" position to give us maximum heating. For one, temperatures are near record high values in the atmosphere overhead. We often use 850 millibar temperature (in C) for forecasting. Every single model (and each model's ensemble averages) look the same. 850mb temps climb to +14 or +15 Friday afternoon, +18 to +19 Saturday afternoon, +19 to +20 Sunday afternoon, and +17 to +18 Monday afternoon. Got all those numbers? I have a chart showing 850mb temperatures over Salem from 1997 to 2019. There are only six days during those 2+ decades when 850mb temps went above +20. So this is "top shelf" warm May atmosphere on the way.
The icing on the cake has to do with the upper-level high position. Notice it's just to our north, that means easterly flow on the south side of the high. This is the perfect setup for easterly wind down off the Cascades and the Coast Range. Look at the 850 mb (5,000′) wind forecast for Saturday night; 30-40 knot easterly wind. This would be very worrisome had we just gone through a dry summer. But vegetation is green and moist in the mountains so fire weather not a big concern up there. Still, hot weather plus dry and windy air means a fire can spread rapidly in the lowlands.
The surface pattern is perfect for maximum heating Saturday and Sunday too. Surface high pressure is over the Rockies, with a "thermal low" from the Bay area up along the Washington coastline (dashed line). Easterly wind makes it to that blue dashed line. So there's a decent chance at least one of the weekend days we'll see 80s and lower 90s along the coastline.
The warmest Mother's Day we've ever seen was Sunday May 13th, 1973. Portland hit 92 that day. So this will be the hottest Mother's Day on record if our forecast of 94 is correct.
The heat this weekend (and possibly into early next week) should be similar to the first week or so of May 1987. This is the last time Portland saw 3 consecutive days in the 90s in the month of May. Anything beyond (1) 90 degree day in May is rare. Hopefully this isn't the sign of another scorching hot summer to come!
That's it for this evening. Enjoy the next three days with dry weather and pleasant temperatures!
Copyright 2023 KPTV-KPDX. All rights reserved.