Models back off on weekend heat, but add thunderstorms for some Monday afternoon
Published: May. 10, 2023 at 9:25 PM PDT
Most of us would consider today a perfect warm spring day! Temperatures hit the mid-upper 70s along the I-5 corridor west of the Cascades; that's 5-10 degrees above normal for this time of year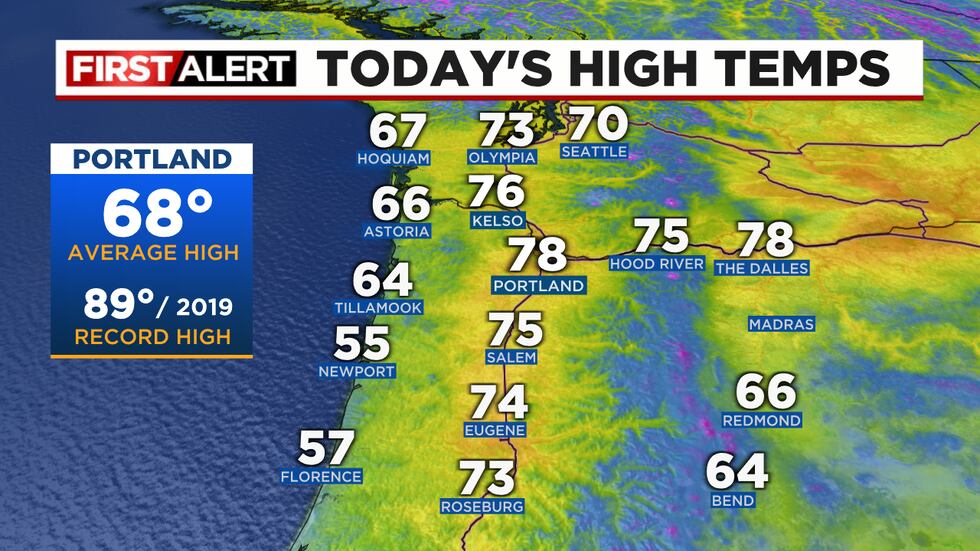 Other than a few scattered pop-up showers and thunderstorms (mainly over mountains), we'll see a repeat tomorrow. All dry and warm once again.
The hot spell (heat wave) for this weekend is still on, but the forecast has needed a few tweaks considering what we're seeing in the models.
HIGHLIGHTS
Hot weather arrives Saturday and continues through Sunday, possibly into Monday as well. Temperatures should peak between 88-93 degrees those days.

At one point models were looking hotter, more like mid or even upper 90s! So temps around 90 are quite an improvement, plus a dry easterly breeze will be blowing. That keeps humidity low through Sunday; in fact relative humidity in the metro area will be in the teens Saturday afternoon!

Temperatures around 90 in the late afternoon means most of the day Saturday/Sunday will be spent in the 70s to mid-80s. It'll only be hot from early afternoon to early evening. This is not the dangerous heat we can have in summertime.

Overnight low temperatures climb up to around 60 degrees or even lower 60s by Monday morning; we may set some low temperature records.

There is a decent chance we see thunderstorms pop up somewhere west of the Cascades Monday afternoon. This MIGHT keep temperatures below 90 that day

The rest of next week remains well above average temperature-wise.
THE HOT STUFF
A big upper-level ridge is developing along the West Coast and will amplify quickly from Friday into Saturday. By Saturday it's a "closed high" centered north of us in B.C.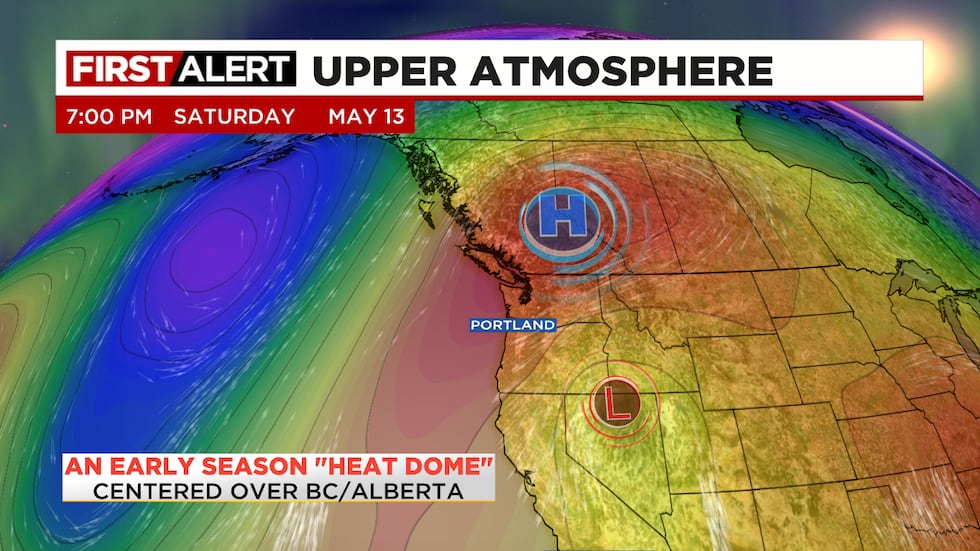 As mentioned in Monday's blog post, this is in perfect position to bring us easterly flow down at the surface. That's maximum warming! But models have settled on slightly cooler temperatures around 850mb (4,500′) since the ridge is a little farther north of us. More like +16 to +18 (Celsius) instead of the +19 to +22 they were showing a few days ago. That's for Saturday and Sunday. Monday is more like +15 to +16 now. These numbers (with sunshine and easterly offshore flow) give high temps 90-93 in the metro area. Monday would be slightly cooler, more like 90. Dewpoints remain relatively low through Sunday night...in the 40s and 50s. That's a typical "dry heat" in our area. If you are in the shade either day enjoying time with family or friends? It'll be quite comfortable. So that's one change I'm seeing; we don't have a "historic" heat wave on the way.
The 2nd change is for Monday. On Saturday's chart above you see a compact upper-level low (not a cold one this time) is moving west to east underneath the B.C. high pressure center. Each model is slightly different on the position, but they all bring that system westward over our viewing area by Monday morning.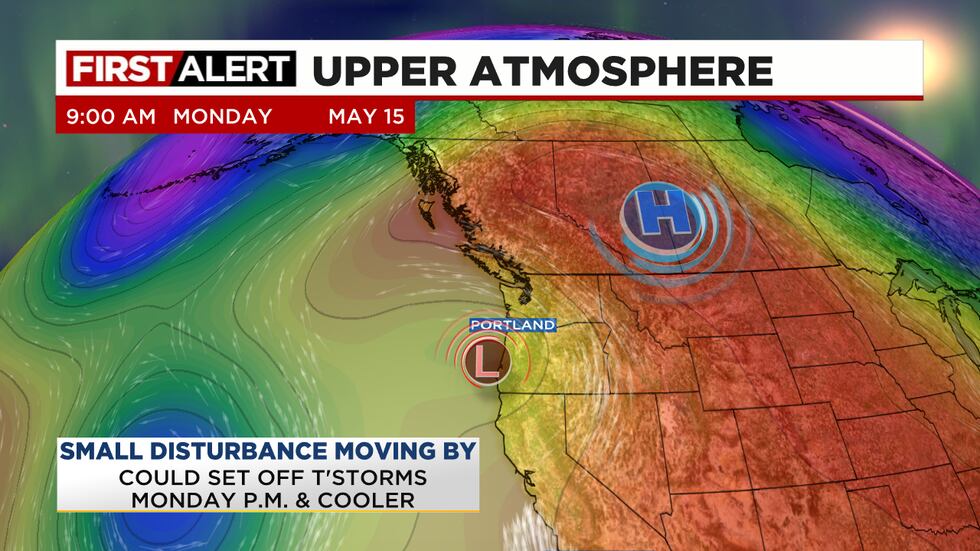 That should bring at least some thin cloud cover Monday and that might cool us a few degrees, possibly below 90. But far more interesting and consequential is that this system brings abundant moisture, lifting in southeasterly upper-level flow, and it's still very warm/hot. Oh, and no sign of cool air flowing in from the Pacific. Weather geeks around here know what that means...thunderstorms may pop up in that airmass Monday afternoon/evening. You can see "PWAT" or precipitable water Monday evening is quite high; above 1.00″. This means Monday as we lose the dry east wind it'll be turning more humid. But probably cooler too.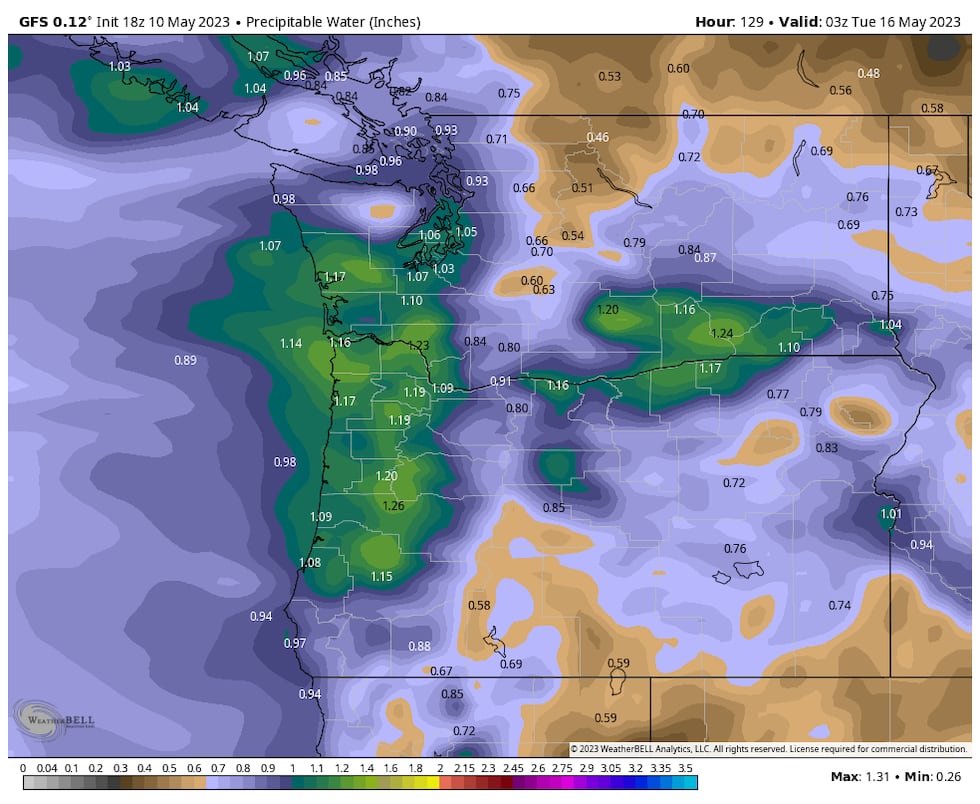 CAPE, or Convective Available Potential Energy, is high Monday evening on all models. This is the GFS model.
These warm season boomers can be real soakers (remember Monday?) and produce abundant lightning, so I'll be watching this setup closely. Once that low continues moving west/northwest out of the area Tuesday/Wednesday, the upper-level high is still nearby. The result is very warm weather continuing through next week, but temperatures above 90 are less likely after Monday.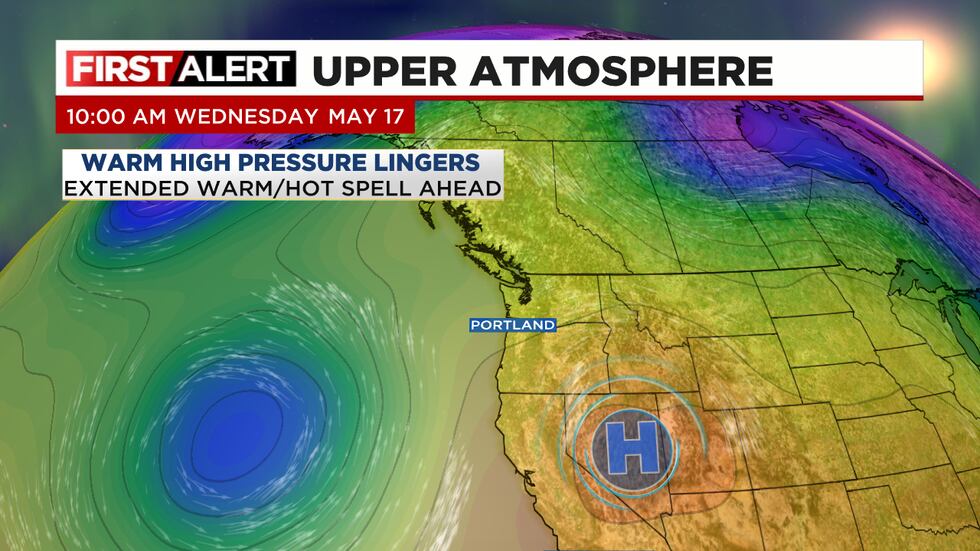 We are forecasting this for high temperatures over the next week
In reality a record high temperature is within reach Saturday, Sunday, or Monday. Our low temperature forecast is even more interesting. Gauging low temperatures this early in the warm season is tough. Keep in mind the all-time May warm low temperature is 62; we are going with that value or higher for three nights! The record warm low temperature records in yellow could be broken.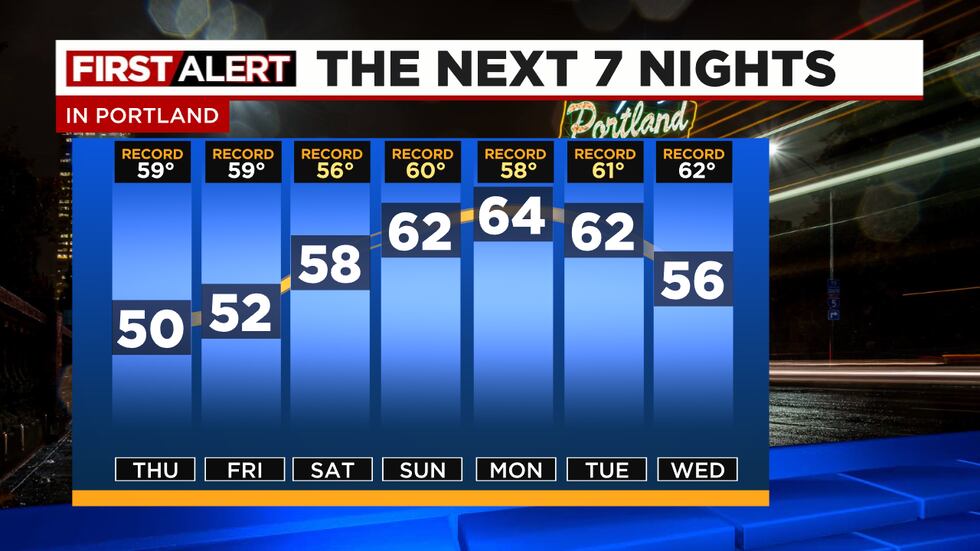 One last item: warm to hot coastal temps. As always, if easterly/offshore wind makes it to beaches for at least part of a day it can be just as warm there as the I-5 corridor. Saturday is a bit marginal for that, but Sunday looks like a pure easterly wind day on the beaches. I think we'll see 90 temperatures out there Sunday. Monday it's possible the southwest wind arrives at midday and cools things down.
That's it for this evening...enjoy the warmer weather ahead and stay cool this weekend!
Copyright 2023 KPTV-KPDX. All rights reserved.