Beaverton HS girls lacrosse team honors late teammate Anna Peterson
Published: May. 12, 2023 at 6:27 AM PDT
BEAVERTON, Ore. (KPTV) - The girls lacrosse team at Beaverton High School shined a light on their fallen classmate on Senior Night.
Anna Peterson passed away last year in a sledding accident while studying at BYU. Her former teammates dedicated their season to their former team captain.
"She was the one that first introduced me to the sport, and I remember before I even started the season, we'd go to her backyard and practice catching and throwing before I really even knew what I was doing at all," said senior Anna Hansen.
SEE ALSO: Family honors recent Beaverton High School grad with scholarship fund in her name
Always teaching, always positive - that was Peterson.
"It's a hard night and we want to keep a positive attitude because we are playing for Anna and it's a good thing too because we want to remember her in a happy way," said senior Chloe Marshall.
Peterson was the happy, go-lucky, Beavers leader for the class of 2022, impacting those in 2023 and beyond.
"I feel like she was kind of our team's big sister," said senior Ava Vogeltanz. "She was always there for all of us."
Peterson's number 44 will never be worn again.
"She deserves it. There will truly never be another Anna," said sophomore Ashley Hendrickson. "She was the most special person I have ever met in my whole life."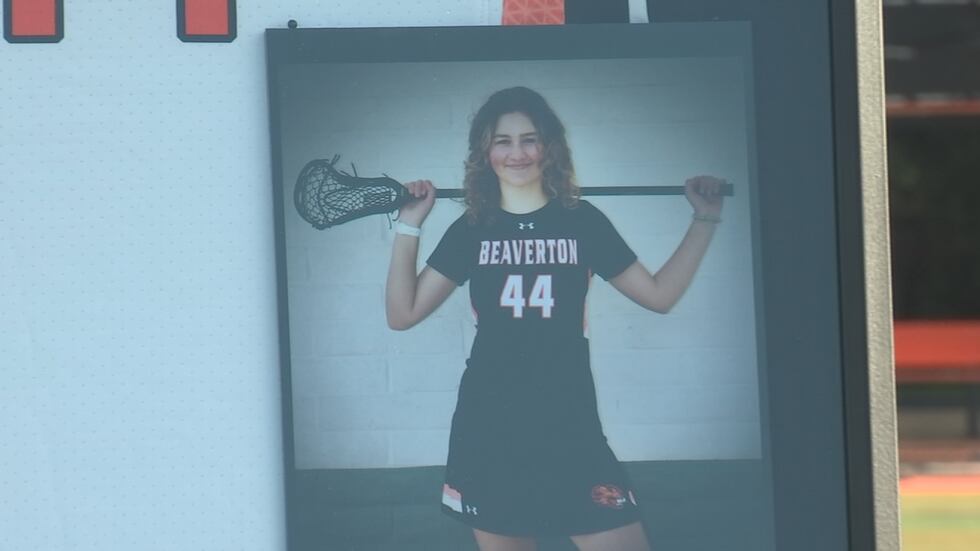 Last December, the Beaverton community was stunned and remains saddened by the sudden loss of Peterson.
"We kind of made a pledge this year, everyone buy in, pick everyone up, work harder, go the extra mile, do what [Peterson] would have done," said Assistant Coach Jim Hendrickson.
SEE ALSO: Yamhill-Carlton HS softball coach celebrates 26th season with the Tigers
The youngest of four Peterson kids, her legacy will live on at the high school and at Ridgewood Elementary School where lacrosse goals will set up alongside a plaque in her honor.
"The last few years have been really traumatic for these kids. You can tell the difference in them from kids five years before them and they've really stepped up, and I think this huge event in their lives, none of them should have ever had to deal with, really made them kind of step out of themselves and look to each other and look more to the things that are important," said Head Coach Amber Christensen.
If you think you or someone you know deserves a high school spotlight, please reach out to Nick Krupke at nick.krupke@kptv.com.
Copyright 2023 KPTV-KPDX. All rights reserved.