Unusually long May warm/hot spell continues all week, plus slight thunder chance Monday afternoon
Published: May. 14, 2023 at 1:49 PM PDT
I've got a quick update for you this Mother's Day afternoon. It's a May "scorcher" out there! Saturday was our 2nd 90 degree day in Portland and today is about to become our 3rd.
Headlines
Today may be our last day at/above 90 degrees, although Monday will be close.

Yet we stay in the 80s through at least Thursday! A 7 day stretch at/above 80 in May is rare; it hasn't happened since 1987

Be on the lookout for a thunderstorm sometime tomorrow afternoon or evening anywhere in the region. IF a thunderstorm develops over your neighborhood it could include downpours, like we saw last Monday in SW Portland.

But most of us stay dry Monday evening in NW Oregon and SW Washington.
1pm temperatures show a strong offshore (easterly) wind flow event is in progress. This covers all of the Pacific Northwest; warm to hot temperatures are on the beach and even have pushed offshore! I see the Newport buoy maybe 10 miles offshore is 70 degrees. Models were perfect showing today as the strong easterly wind day not only on the beaches but inland areas as well.
The wind is quite gusty today because of relatively strong high pressure over SW Canada and a "thermal" low pressure that is sitting offshore. This isn't a typical "through the Gorge" easterly wind event, it's widespread across the region
With such widespread gusty easterly wind, last night was very warm in spots where it typically isn't. The airmass overhead is warm, so as long as the wind keeps blowing at your home, it stays warm. If the wind goes calm, cooler air settles into low spots, valleys, dips in the terrain etc...then all of a sudden you drop into the 50s. One extreme example was at Florence where it had dropped to 59 around 10pm, but then rose to 80-81 around midnight as the easterly wind kicked in again! The low of 62 in Portland tied the all time warm May low temperature record. We will see if we do it again tonight, although more areas should see a calming wind by sunrise Monday.
Even though we are already 87 in Portland at 1pm, that's a few notches cooler than yesterday at 1pm. Still, I think we should get up in the 91-92 degree range again. If so, models also did quite well showing a very slight dip in temps today. We will know within 3-4 hours.
Those of you in central/eastern Oregon are seeing lots of clouds this afternoon and these are associated with an upper-level low moving east to west across the Pacific Northwest south of the big/hot upper level ridge in SW Canada. Here's the view up at 18,000 today
That upper low drifts right over NW Oregon tomorrow and it could set off afternoon thunderstorms. That plus a few more clouds makes me think we'll stay under 90 tomorrow, more like 88. But it'll be a bit more humid too; might feel the same.
Will get get a thunderstorm or a large outbreak of thunderstorms tomorrow afternoon? Models disagree; although all the right ingredients are there with moisture+heat+instability. My gut feeling is that someone in NW Oregon and/or SW Washington gets some thunder action between 3pm-8pm tomorrow. These warm season storms can be dramatic too with higher bases and lots of lightning. Plus with precipitable water over 1″, a slow moving storm could easily dump an inch of rain. IBM's GRAF model has been insisting the past two runs that at least part of the metro area gets a dumping of rain tomorrow afternoon.
But you can see that even this "aggressive" model has much of the area west of the Cascades staying dry. So whatever happens tomorrow may be quite spotty. Keep in mind several models keep action north or east of us and much of the I-5 corridor stays dry.
So why is it going to stay warm to hot for an entire week? The hot closed area of high pressure in Canada does weaken the next two days, but it shifts a bit westward too. That weak upper level low is over Eastern Oregon by Tuesday. This is a warm pattern for us with no cool weather systems nearby.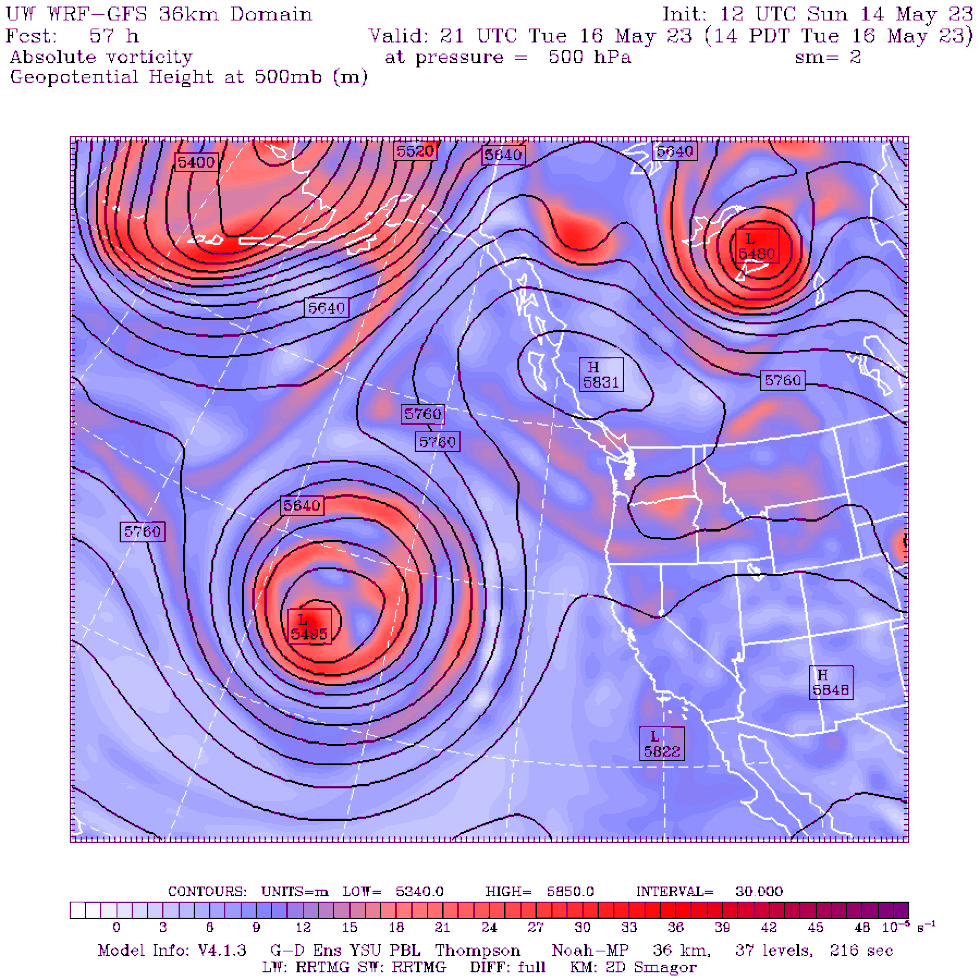 By early Friday the ridge has strengthened to the south and is still keeping systems away from us.
With the upper level low tracking overhead tomorrow and Tuesday, that switches the low level flow back to onshore. But the onshore flow remains very weak the rest of the week. Here's Tuesday and you see just a few millibars of westerly pressure gradient across the Cascades; good enough for kiteboarding at Hood River, but not enough to pull in a big push of marine air west of the Cascades
Typically we see an upper level ridge like this in May, it gets hot, then the ridge flattens or goes away = much cooler with a strong marine push. That's not happening this time. Instead we'll go from "record setting warm temps" to "much above normal" warm temps.
Alright, enjoy the rest of your Mother's Day! I'll be tracking any storms that develop tomorrow afternoon at work...if we get any.
Copyright 2023 KPTV-KPDX. All rights reserved.