As Oregon Senate GOP boycott hits 'crucial point,' governor begins talks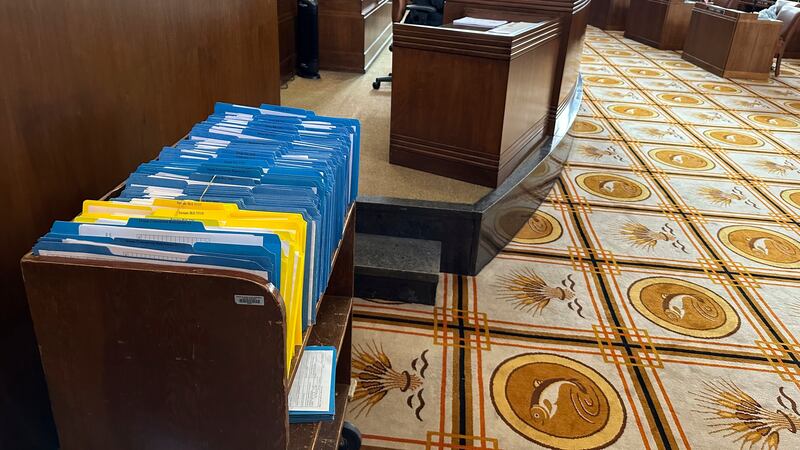 Published: May. 24, 2023 at 6:49 PM PDT
SALEM, Ore. (AP) — Oregon Gov. Tina Kotek has begun meeting with Democratic and Republican leaders in the statehouse to try to end a three-week-old boycott by GOP senators. Her office said Wednesday this year's troubled legislative session has reached "a crucial point."
No progress was announced, however, with only one month remaining in the session that began Jan. 17. Because of the walkout, over 100 bills that have emerged from committees remain in limbo. Both the Senate and House must also approve state budgets for the next two years before the session closes by a June 25 deadline.
Republican Senate Minority Leader Sen. Tim Knopp said on Tuesday the boycotters are not returning until the session's last day, when they intend to pass "bipartisan" budgets and bills.
The walkout, which began on May 3 ostensibly because bill summaries weren't written at an eighth grade level as required by a long-forgotten law, has focused on a sweeping measure on abortion rights and gender-affirming care that the conservatives particularly object to, and a gun safety measure that would raise the minimum purchasing age of AR-15-style rifles and some other firearms from 18 to 21.
"The governor recognizes that we are at a crucial point in session. She has been listening to all concerns and gathering all perspectives ... She will continue meeting with legislative leaders in the coming days in hopes of finding a resolution," said Anca Matica, the Democratic governor's spokesperson.
Kotek met separately with Democratic and Republican caucus leaders on Monday, with most Republicans dialing in instead of appearing in person. She has not ruled out ordering the Oregon State Police to bring the boycotters to the Senate floor to reach a quorum in the 30-member chamber. Then-Gov. Kate Brown in 2019 instructed state police to track down and round up boycotting senators, but most had fled to neighboring states — out of the officers' jurisdiction.
Senate Minority Leader Sen. Tim Knopp told reporters on May 3 that legal action would be taken if the state police try to forcibly bring boycotters to the Senate floor.
Knopp recalled that in the 2019 boycott, he got a call from then state police Superintendent Travis Hampton while hiding out in Spokane, Washington. Knopp suspected that Hampton was trying to "triangulate" Knopp's location with the call, but the superintendent replied that he already knew Knopp's whereabouts.
"And he said, 'You're out of our reach,'" Knopp said.
Knopp said if the governor deploys the state police this time, "they would probably make calls. They would probably visit homes."
"We don't believe they have a legal authority to detain or put hands on anyone. Should that happen, legal action will be taken immediately," Knopp said.
Under a ballot measure passed by Oregonians last November, Knopp is among nine Republican senators and the Senate's lone Independent who have become disqualified from being seated in the Legislature after their terms expire because they have 10 or more unexcused absences this year. That limit was set by a ballot measure that almost 70% of Oregonians voted for last November and is now part of the state Constitution.
Some of those senators who want to seek reelection in 2024 are expected to file court challenges to the ballot measure once they can begin filing as candidates in September.
Copyright 2023 KPTV-KPDX. All rights reserved.