Warmer & Sunnier Starting Wednesday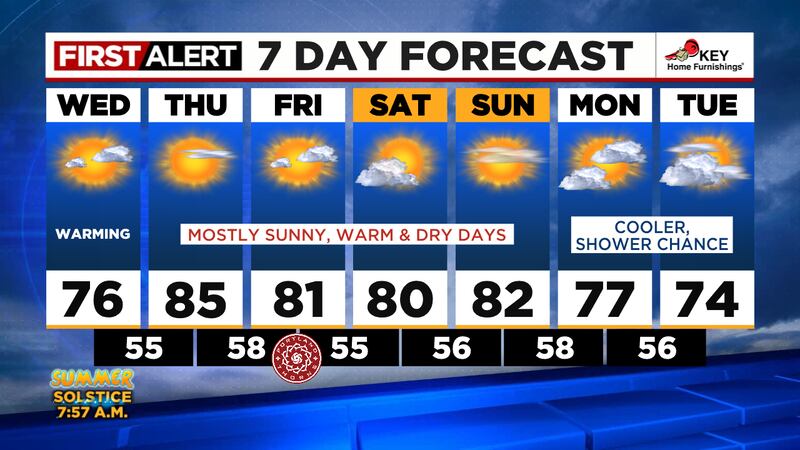 Published: Jun. 20, 2023 at 3:09 PM PDT
It was a less eventful weather day than the past couple of days, but some showers are starting to pick up across the metro area this afternoon. We should see those dying down this evening and our skies starting to clear out to more sunshine and eventually clear skies late tonight. Today has been pretty cloudy thus far, and temperatures have remained cool again.
Tomorrow we are going to see sunnier skies and temperatures much warmer. We expect to reach highs right around average, with the western valleys hitting the mid to upper 70s. Expect mostly sunny skies through the day tomorrow. This will begin a warm-up that increases even more significantly on Thursday. Highs Thursday will top out in the mid 80s. It will be another mostly sunny day and likely the warmest day of the week for us.
Friday through the weekend will continue to see temperatures in the low 80s and mostly sunny skies. The exception to that will be Saturday morning, which looks like it will start with more of a cloudy marine layer that will slowly clear out into the afternoon. Overnight lows will get warmer through the week, but remain mild, with temperatures in the mid to upper 50s most nights.
The next big change could possibly come on Sunday night. We are tracking the potential for some showers or thunderstorms Sunday night and into Tuesday. Clouds are likely to increase for Monday and Tuesday with the threat of showers. Temperatures will also be a bit cooler, down to the mid to upper 70s on Monday and lower 70s on Tuesday. We'll be keeping our eye on this as we get closer!
Copyright 2023 KPTV-KPDX. All rights reserved.