'Beyond belief': Woman says ex-husband died after waiting 90 minutes for ambulance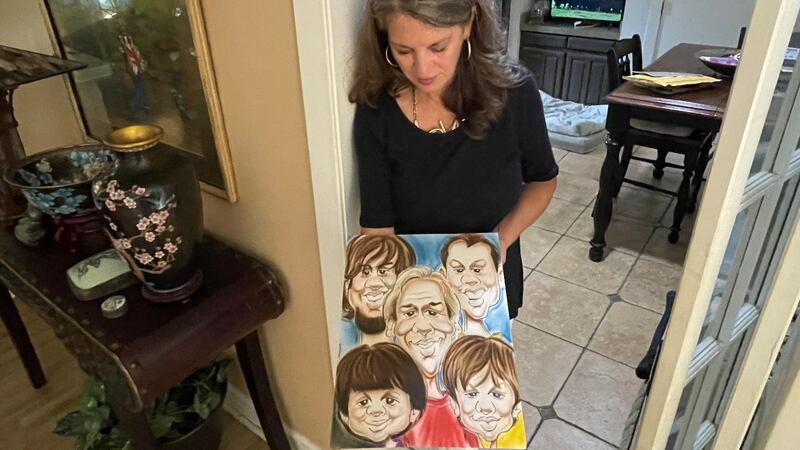 Published: Jun. 24, 2023 at 11:54 AM PDT
JACKSON, Miss. (WLBT/Gray News) - A Mississippi woman says her ex-husband died after waiting over an hour for an ambulance to arrive.
In April, Donna Echols said she had returned home from her son's wedding in the Bahamas to find her ex-husband, "Diamond Jim" James Mabus, on her living room floor moaning from pain after suffering a stroke.
Mabus, a father of four, had agreed to watch the house while she was gone.
"The dogs [were] acting really funny when I opened the door, very nervous ... My immediate thought was that I felt I'd been robbed," she said. "I ran out of the house and in a hurry."
When she went back inside, she found Mabus on the floor. Several couch cushions were thrown around the room and a large wall divider had fallen on him.
"He was sitting, probably had a small stroke and panicked and started grabbing at furniture," she said.
Echols said she called 911 but it took about 90 minutes for an ambulance to arrive, despite calling five times.
First responders ended up transporting Mabus to a hospital, but he died about a week later.
"To wait almost an hour and a half for life-saving ambulance service is inexcusable," Echols said. "When you know you've got somebody that needs medical care to wait an hour and a half is a death sentence."
Echols said paramedics were stationed about five minutes away from her home, but they couldn't respond because they were with a different company and Hinds County is served by American Medical Response.
"If you can't have a helping hand situation or a mutual aid agreement then are you about territory and profit or about saving lives?" she asked.
According to Echols, she spoke to the Jackson City Council at a special meeting called this week. She said something must be done so other families don't have to experience what she and Mabus went through.
"The trauma involved in that, somebody watching a loved one, a friend, go through that ... It's just emotional beyond belief to know that my children now have to hear that story," she said. "And I don't even want to think what Jim may have been thinking on the floor."
She said the experience had to be equally frustrating for the firefighters at the scene.
The Jackson Fire Department responded to Echols' residence 10 minutes after her first call was made.
"It was so brutal and so bad that the firefighters that were at my house that night called AMR and said, 'Where are you?'" she recalled. "They were sitting there watching the same thing I was watching and couldn't do any more about it."
WLBT reports that Council Vice-President Angelique Lee said that city leaders have been sounding the alarm about ambulance wait times for years.
"We've been hearing from Chief Willie Owens and [Assistant Chief Patrick] Armon and from the fire department about AMR's poor response times," she said. "[The fire department is] able to deploy to the scene once a 911 call is enacted. They're able, with their paramedics, to treat, but unfortunately, they aren't able to transport."
Additionally, ambulances from other companies aren't able to provide assistance in Hinds County, unless AMR seeks their help, according to officials.
And that's something the city of Jackson is working to change.
Jackson Mayor Chokwe Antar Lumumba said the city previously approved creating its own emergency service district to provide ambulance service solely to Jackson residents.
He said the city is expected to issue a request for proposals for those services "very soon" and the city will require ambulance services to have mutual aid agreements.
"I am concerned about residents who have said time and time again that the ambulatory response just takes too long," Lumumba said.
Other council members shared they are also familiar with the extended wait times.
Ward 4 Councilman Brian Grizzell told members it took paramedics more than an hour to respond to his 85-year-old neighbor's home after she fell and broke her leg.
"I made some calls and still couldn't get anybody there because there were things going on in the city," he said. "A lot of their paramedics were still on the wall."
Grizzell explained that paramedics are considered "on the wall" when they're waiting for hospitals to take in their patients. They can't respond to additional calls until those patients are off-loaded.
"I understand the business of medicine and saving lives, but we have to make sure that we put the people first," he said. "As a council, we have to do something to make sure that our citizens are being better served."
AMR has been a provider of ambulance services in Hinds County since 1991. Under the company's current contract, the company reportedly must answer 85% of service calls in eight minutes or less in Jackson and Clinton, and 12 minutes or less in Byram.
AMR does have the discretion to call other ambulatory services for help but typically does not do so unless mass casualties are reported, according to WLBT.
A spokesperson for AMR didn't immediately answer specific questions sent in by WLBT regarding this report.
Echols said AMR has not contacted her, but she has received a bill for $1,800.
"I've gotten no other response from them at all," she said. "It's just unbelievable to think that this could happen."
Echols is currently planning a celebration to honor Mabus' legacy for his birthday next month.
Copyright 2023 WLBT via Gray Media Group, Inc. All rights reserved.