Lillard requests to be traded from Trail Blazers
'Dame' will leave Portland after 11 seasons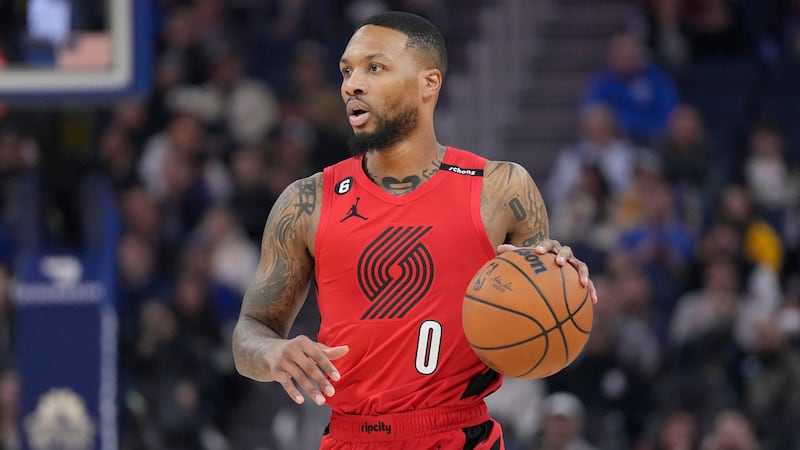 Published: Jul. 1, 2023 at 9:34 AM PDT
PORTLAND, Ore. (AP) - Damian Lillard has said repeatedly that he wants to contend for a championship. After 11 years in Portland, he has decided he needs to move elsewhere to make that happen.
Lillard asked the Trail Blazers for a trade, a move that will end the seven-time All-Star's tenure with that team, two people familiar with the matter said Saturday.
Lillard will generate interest from the Miami Heat and Brooklyn Nets, among others, according to the people who spoke to The Associated Press on condition of anonymity because no details were announced publicly. One of the people told the AP that Lillard's preference is Miami, though that hardly guarantees the Trail Blazers will work to facilitate that specific move.
Lillard is coming off a season in which he averaged 32.2 points for the Trail Blazers. He is a seven-time All-NBA selection and was selected to the NBA's 75th anniversary team - but he has never been close to a title in his 11 seasons in the league.
SEE ALSO: Trail Blazers' Damian Lillard named to All-NBA Third Team
He has met with Portland multiple times in recent weeks, asking for the roster to be upgraded to the point where he can compete for a championship. But those efforts, evidently, have not gone to Lillard's liking and led to him asking to be moved elsewhere.
His decision was revealed on the second day of NBA free agency, after Portland made a huge splash on the first night by retaining Jerami Grant with a $160 million, five-year deal.
For as great as his resume is, Lillard hasn't enjoyed much in the way of postseason success. The Blazers have won only four playoff series in his 11 seasons, making the Western Conference finals once during that span. The team went 33-49 this past season, the second consecutive year of finishing well outside the playoff picture.
But Lillard is, by any measure, a dynamic player. He has averaged at least 24 points per game in each of the last eight seasons, and his career average of 25.2 points ranks fourth among active players behind Kevin Durant, Joel Embiid and LeBron James.
He had a 71-point game this past season against Houston, has 17 games of at least 50 points in his career - two of them in the playoffs - and is a past rookie of the year, teammate of the year and winner of the NBA's citizenship award. He's even an Olympic gold medalist, winning one alongside Miami's Bam Adebayo at the Tokyo Games and raving at times about how much he enjoyed playing with the Heat center.
The only glaring omission on Lillard's resume: a championship. And now he'll seek a move to change that.
Copyright 2023 KPTV-KPDX. All rights reserved.