Heatwave continues with two more 90+ degree days
Wednesday will be the second of our two First Alert Weather Days due to the hot temperatures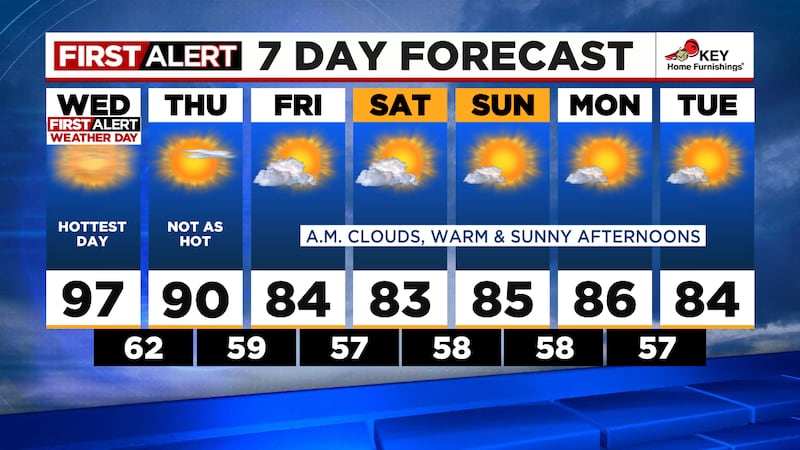 Published: Jul. 4, 2023 at 3:16 PM PDT
Happy 4th of July everyone,
We reached 90 degrees three hours earlier today than yesterday. This puts in the position to make it to the mid-90s today as we expected. The record is 97 so I'll be keeping an eye on that, but it's not very likely we will break that record. Tomorrow is still expected to be slightly hotter than today. The record for the 5th of July is 96 and it looks like we'll make it into the upper 90s which means we are likely to break a record tomorrow. Thursday still has a decent chance for temperatures to drop back into the low 90s with a thicker marine layer coming in with some clouds and cooler air. It looks like we will hang out in the low to mid-80s for the rest of the week, through the weekend and into the start of next week. If this happens we will be pretty close to getting a stretch of 80+ degree days which could tie top spots of longest stretch of 80+ days. Right now we are at 14 days in a row, if we make it all the way through our extended forecast we will be at 21 which put is just 2 days away from the record of 23 in 1985.
Still no signs of rain and/or thunderstorms in our extended forecast.
Copyright 2023 KPTV-KPDX. All rights reserved.