PETA offers reward after 'Hell on Wheels' box truck stolen in SE Portland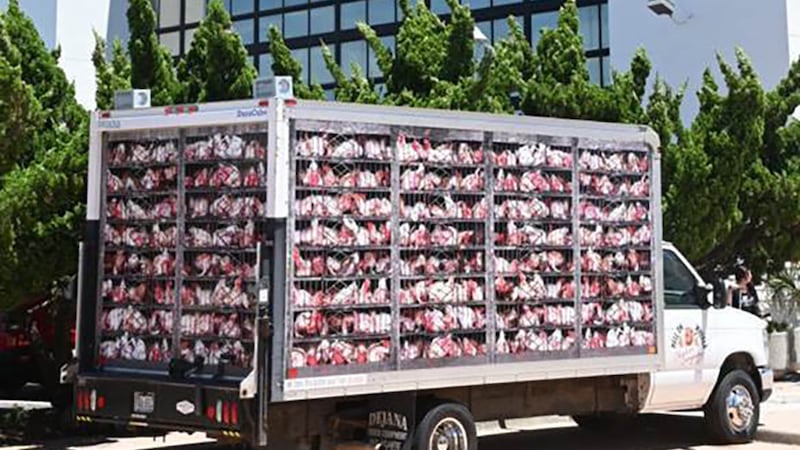 Published: Jul. 6, 2023 at 9:09 AM PDT
UPDATE: The stolen truck was found Friday, July 7, in southeast Portland. The truck was reportedly vandalized and damaged.
PETA's stolen 'Hell on Wheels' truck found vandalized in SE Portland
PORTLAND, Ore. (KPTV) - The animal rights nonprofit organization, PETA, is offering a reward after their "Hell on Wheels" box truck was stolen in southeast Portland this week.
PETA says the truck, which is covered in images of chickens in crates, was stolen near Southeast 72nd and Southeast Flavel in the Brentwood-Darlington neighborhood on the night of Monday, July 3, or the morning of Tuesday, July 4.
The truck was in Portland to honor the chickens that were killed when a semi-truck overturned on I-5 last month, according to PETA.
The truck is described as a 2016 Ford E-350 Super Duty with Virginia license plate number VHA5528. The cab has large decals that read, "Hell on Wheels," with a logo of a chef holding a dead chicken.
SEE ALSO: 2 dead, 2 hospitalized after crash in SE Portland
PETA is offering a reward of up to $5,000 for information leading to the recovery of the truck. The organization also said it would provide a year's supply of an array of vegan chicken to tipsters whose information leads to the recovery.
Anyone who has seen the box truck or knows where it is can submit tips to info@peta.org or contact the Portland Police Bureau at 503-823-0000 using case number 23-175631.
Copyright 2023 KPTV-KPDX. All rights reserved.