Newell Road Fire now more than 50K acres in Klickitat Co.
Published: Jul. 22, 2023 at 3:22 PM PDT
KLICKITAT COUNTY Wash. (KPTV) - The Newell Road Fire in Klickitat County, Wash. has grown to more than 51,000 acres as of Sunday morning, officials said.
There are Level 3, "Go Now" evacuation orders in effect, which can be seen in the map below. Level 1 and 2 evacuations have also been declared for people living in the area. For the latest evacuation maps, people can visit the Klickitat County 911 Dispatch / Emergency Management Facebook page.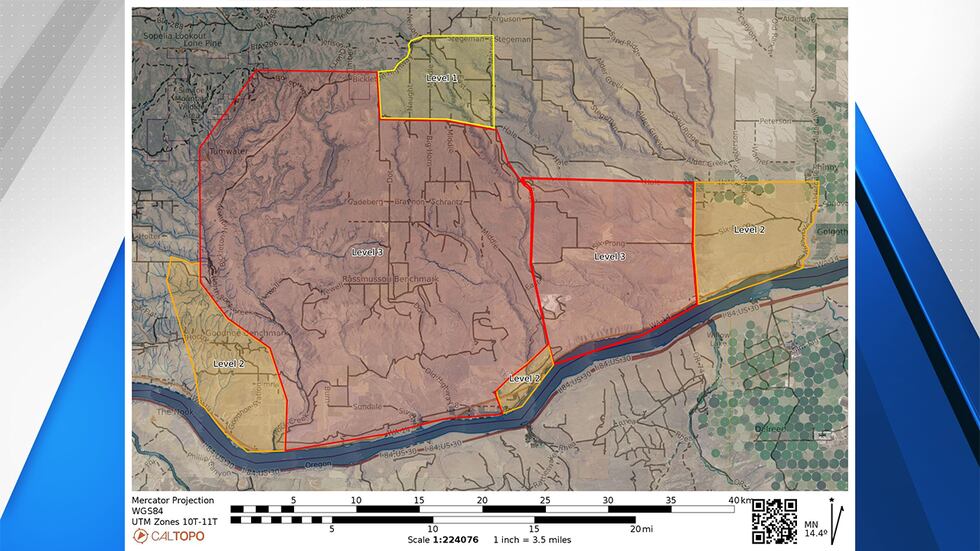 The operations section chief said there was significant growth in the fire after 2 p.m. Saturday. It is now more than 51,000 acres. The fire will transition to a type II management team on Monday morning. A video update from Sunday morning can been seen here.
The fire started shortly before 3 p.m. Friday in the area of Newell Road and Dot Road. During the next few hours, the fire spread in multiple directions, threatening homes, farm buildings, livestock, crops, solar farms, wind farms, the Williams Natural Gas Pipeline, and the Roosevelt Landfill, officials said.
At about 10 p.m. Friday, a state of emergency was declared for the county by the Board of Commissioners, and at 9 a.m. Saturday, the fire was 0% contained and had burned more then 30,000 acres and "numerous" structures.
Sign up for emergency notification alerts here.
The following roads have been closed: Roosevelt Grade Road, Middle Road, Old Highway 8 north to and including Dot Road.
The Red Cross has opened a shelter for people affected by Newell Road Fire at Goldendale Middle School, 520 East Collins Street in Goldendale, Wash.
Copyright 2023 KPTV-KPDX. All rights reserved.