Man assaulted during argument at Portland 7-Eleven is awake from coma but faces long recovery
Published: Jul. 24, 2023 at 10:24 PM PDT
PORTLAND Ore. (KPTV) - The mother of a man who suffered week-long coma after being punched in southeast Portland earlier this month says her son has a long road ahead in his recovery.
"He's not doing too good," said Kathy Flynn, Chad Twilleager's mom. "He's not out of the woods yet. He still has to go in every day to the Trauma Center. He's got bleeding on the brain. He's gone to speech therapy."
According to the Portland Police Bureau, Twilleager and his family stopped at a 7-Eleven at the intersection of Southeast 148 Avenue and Southeast Stark Street just after 11 p.m. on July 3.
SEE ALSO: 3 suspects found hiding in backyard after search in SE Portland
Twilleager saw a man he believed was using fentanyl in front of Twilleager's children.
Twilleager spoke to the man, which led to a "verbal altercation," according to police. Then, "without warning," the suspect punched Twilleager in the face, knocking him out. Twilleager fell to the pavement, hitting his head. He suffered a broken nose and cheekbone, two brain bleeds, and was in a week-long coma.
Flynn came up to Portland from Prineville to be with her son.
"I was able to see him," said Flynn. "He's not doing too good, but he's doing better than he was. At least he is not in a coma. It's extremely hard. It's hard to talk. He has seizures. He has a long road ahead of him."
Portland police released photos and a description of the suspect, asking anyone with information about the man to contact them.
"I would like to find the gentleman who did this to my son," said Flynn. "Hopefully we can get him and he doesn't do this to anyone else."
Flynn has started a GoFundMe to pay for her son's medical expenses and to fund a reward to go toward finding the suspect.
SEE ALSO: Family says slain security guard's passion was to protect, take care of others
PPB released several photos and a description the suspect:
22 to 29-year-old white man.

About 6-feet, 3-inches tall.

Has a slim build and weighs approximately 160 pounds.

Visible tattoos from his left hand to his elbow.

Last seen wearing the pictured blue-plaid shirt, beige pants, camo baseball cap, and black shoes.

Following the attack, he left pulling the pictured wagon.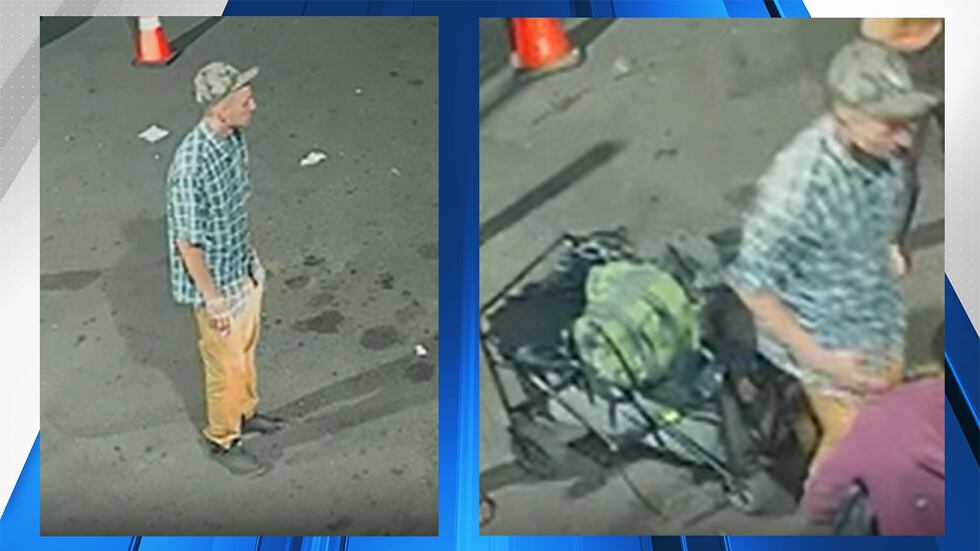 Anyone with information on the attack is asked to contact Detective Matt Brown at matthew.brown@police.portlandoregon.gov and reference case #23-175137.
Copyright 2023 KPTV-KPDX. All rights reserved.