'I'm just so happy he's here': Daughter of WCSO deputy shot on duty discusses his recovery
Published: Aug. 2, 2023 at 10:49 PM PDT
WASHINGTON COUNTY, Ore. (KPTV) - As a Washington County deputy shot in the line of duty remains in the hospital, his daughter discusses his recovery.
"We've been having good conversations," Kaela Dozé said. "I mean he's very tired, so he'll be awake for ten minutes and then he'll doze off or something, but he's with it. He's still kind of witty and humorous, so I'm glad he's using his humor to get through this. He just is the example of true grit and honor. That's really what he stands for. The strength in his soul is just innate. I'm just so happy he's here and can live a somewhat normal life after this. It's going to be difficult working through mobility issues and losing his eye, but those are all things I am willing to accept over death and brain damage."
According to WSCO, Deputy Dozé was shot three times in his upper torso, the bullets stopped by his body armor. He was shot once in both arms, breaking his left and right humerus, and twice in his head.
See Also: Shot Washington Co. deputy has seen incredible recovery, family says
Deputy Dozé lost his left eye and multiple teeth from one of the bullets that struck him in the head and a graze wound approximately six inches down the right side of his head from the other bullet.
"We are working through it," Kaela explained. "It's been a hard process, but there's been little miracles along the way that we can be positive about. He got shot in both of his elbows, but the left one has the nerve damage so he has his main hand. He's right-handed. That's a little miracle. There's no brain damage from him getting shot in the head. It's like how do you come out talking after that? That in itself is a miracle. I get to hold my dad's hand and hug him one day as soon as he gets better."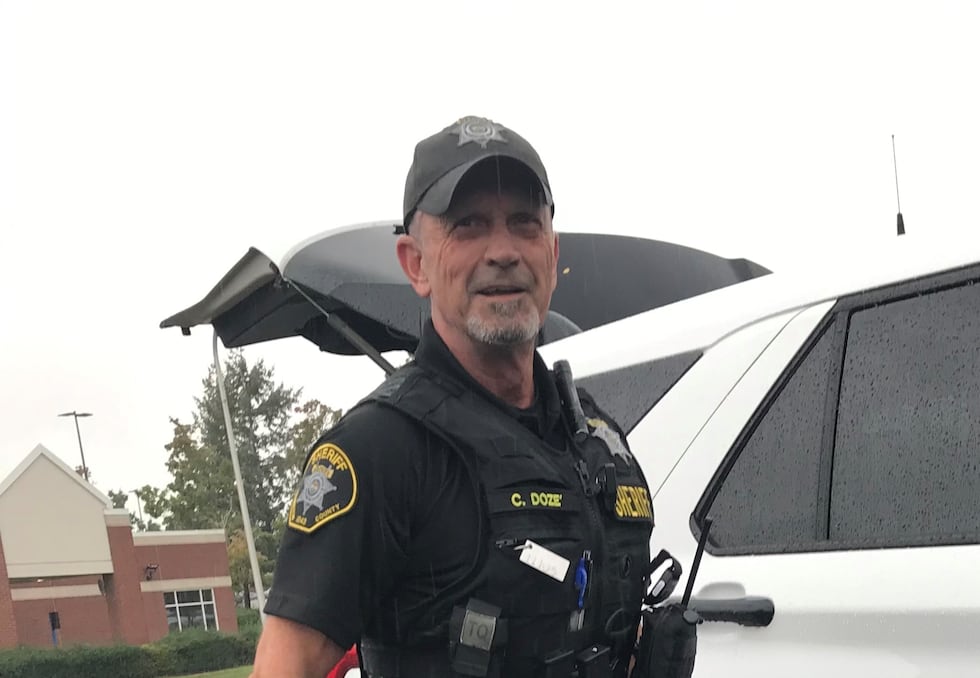 In their short conversations, his daughter Kaela says he's already discussed going back to work.
"He's always been a hard worker," said Kaela. "I think it will be difficult for him to not work, but he's told me he is going to focus on his recovery first and then in a year or two if he can, if he feels like he wants to work, he will go back to work for a couple of years."
His daughter said the family is grateful for the outpouring of support from the community.
"My mom, my brother, me, my whole family is just so grateful about how the community is supporting us and working together to show support and generosity," said Kaela. "It's taken away some of the fear, the future fear that we have because he's going to be unable to work. It makes us feel some sense of calm."
See Also: Candlelight vigil held for Washington Co. deputy in critical condition after shooting
Deputy Dozé remains in the hospital and has multiple surgeries ahead of him.
"It's going to be a lot of physical therapy," said Kaela. "It's just a long road ahead, but we are just going to take it day by day and keep the positivity and momentum up. I just think he would want everyone to know that even if he knew that this was the end result, he would still sign up and do this job, because that's how dedicated and passionate he is helping the community and being an integral force of change and using his skills of coming from hardship to pass that on and let people know that it is a choice. You can take action to make your life better. Even though he is the police officer showing up on the door bringing some bad news usually, it's a choice, it's a stepping stone that you can make the change that you want to."
The Washington County Police Officer Association, or WCPOA, created a GoFundMe for Deputy Dozé.
WSCO says additional donations can be made through any US Bank location by going to customer service with Deputy Dozé's name and saying that you are donating to his charity account.
Copyright 2023 KPTV-KPDX. All rights reserved.