First Alert Weather Day: Hottest temperatures of the summer arrive Monday and Tuesday
Published: Aug. 14, 2023 at 5:07 AM PDT
First Alert Weather Day today and tomorrow. Sunday, PDX officially hit 101 degrees. We missed tying a record high by 1 degree. Today we will likely destroy the old record high for today's date, which was 102 set back in 2008. Today's forecast calls for sunshine and a high of 105. We will also have gusty north winds at 10-15 mph with gusts to 20 mph. Overnight lows will only cool to the lower 70s. Tomorrow should be the last of our First Alert Weather Days for the week with another scorcher, sunny and a high of 103. We cool a little Wednesday and Thursday, but our heatwave continues with highs in the mid to upper 90s. Friday through the weekend will bring a few morning clouds, then mostly sunny and highs in the mid 80s.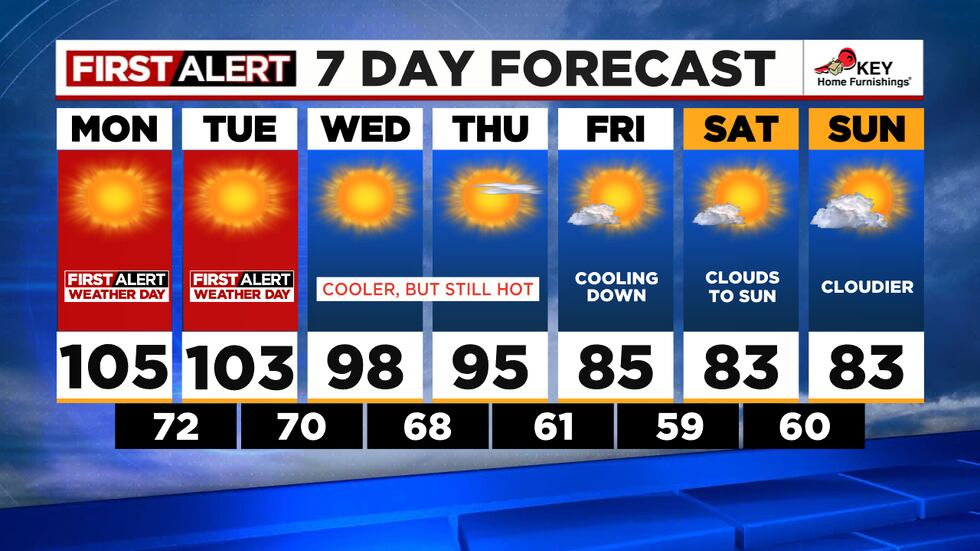 The metro is under an EXCESSIVE HEAT WARNING until 11 p.m. on Wednesday. The metro is also under a RED FLAG WARNING until 11:00 tonight thanks to the low humidity levels and gusty winds.
Copyright 2023 KPTV-KPDX. All rights reserved.