First Alert Weather Day: Heat wave continues through midweek
Published: Aug. 15, 2023 at 5:14 AM PDT
Good Tuesday morning. As of 3:00 a.m. on Tuesday, we have the majority of metro temperatures in the 70s and even a couple in the mid 80s.
We have another First Alert Weather Day today with sunshine and another record high temperature expected to hit 103. We are still under the EXCESSIVE HEAT WARNING until 11:00 tomorrow night. PDX officially hit 108 for a record high yesterday. At this point, we are going to add one more First Alert Weather Day for tomorrow, it will be sunny with a high of 99. We get a little relief on Thursday, but still pretty toasty with mostly sunny skies we will reach 95. 84 with a few morning clouds on Friday. By the weekend through Monday, expect a few morning clouds, then sunshine and highs only reaching the low 80s.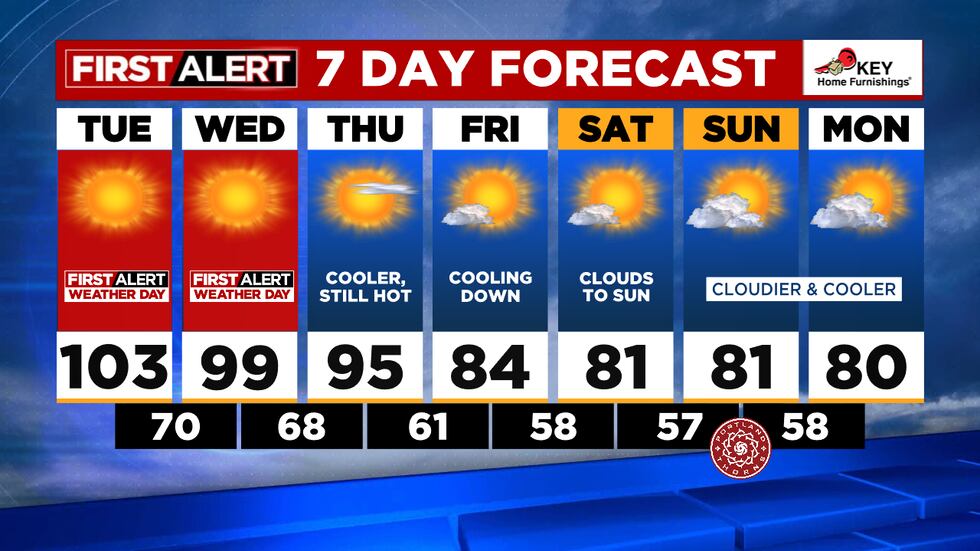 One place to head for some relief from the heat today would be the coast. The coast will see some clouds this morning, then sunny this afternoon with highs ranging from the upper 60s to around 80 in Tillamook.
Copyright 2023 KPTV-KPDX. All rights reserved.