One more 100 degree day, then we start backing off our extreme high temperatures
After Thursday in the mid-90s, it will be back in the 80s for a while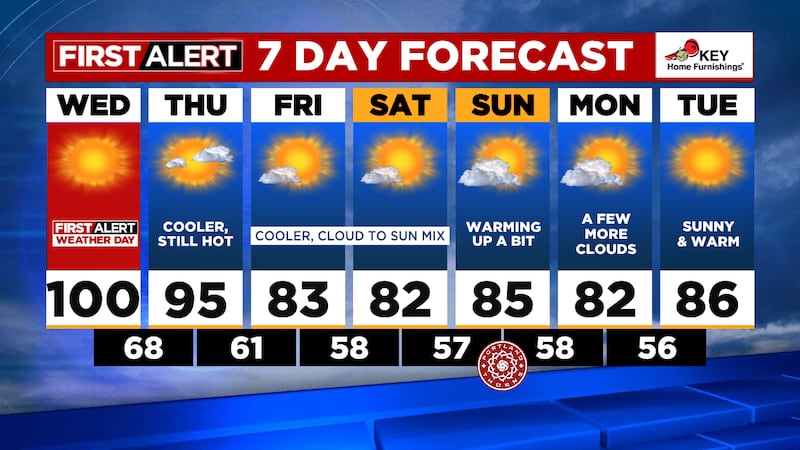 Published: Aug. 15, 2023 at 2:49 PM PDT
As we approach the hottest part of the day we are a few degrees cooler than yesterday, but still expecting to reach the low 100s by the peak of highs today. Last night we tied our warmest overnight temperature only dropping to 73 in PDX. We have one more First Alert Weather Day in the forecast for tomorrow. Indications are still showing the chance to reach 100 for the high. Although Thursday will mark the shifting of the upper level systems, it will still be hot getting into the mid-90s. The high pressure will continue to shift west making a pathway for the cut off low to our south to rejoin the trough to our north. This will bring in cooler air and get our highs back into the 80s. At this point our coolest day looks like it will be in the low 80s which is currently our seasonal average. There should also be a bit more clouds cover through all this, but nothing looks to significant at this point. Overnight we stay unseasonably warm through the week and get back to the mid to upper 50s over the weekend and the start of next week.
The other thing I'm tracking is wildfire smoke. Air quality in the Portland metro this afternoon is in the moderate range, but as you move south through the valley it decrease to its worst in Eugene where it's hazardous right now. There is an air quality advisory in Lane County until tomorrow night at 5pm. Deschutes county has and air quality alert until Thursday at 11 pm, and the greater Portland metro area has an air quality alert until Thursday at 6 am.
Copyright 2023 KPTV-KPDX. All rights reserved.