Where did heat wave rank in Portland history? Plus smoky weekend & hurricane leftover rain for part of Oregon
Published: Aug. 18, 2023 at 5:41 PM PDT
As mentioned in my blog post 6 days ago, I've been on vacation this week and won't be back at work until Monday. But you know I don't like to miss out on interesting weather so here's a very quick post covering three topics. Plus, my wife is at some happy hour thingy with the ladies so I'm able to sneak off and look at weather info while she's gone.
The heat wave we just experienced ranks #2 or #3 in Portland's history and #3 to #5 in Salem's history (back to 1893), depending on how you analyze it

Prepare for lots of wildfire smoke Saturday afternoon through the rest of the weekend in NW Oregon and SW Washington

The eastern 1/4 to 1/3 or Oregon will get a soaking from the remnants of Hurricane Hilary Sunday night and Monday
HEAT WAVE RANKING
I'll post a longer piece wrapping up the whole event at some point next week, but it's pretty clear this was a historic heat wave. That's after the historic heat wave at the end of last July. But of course it wasn't as severe as the big event in June 2021. It took us 40 years to finally equal/exceed that 107 all-time record at PDX in 2021. Then it happened again (108 this week) just two years later? Regardless, one would have to be in some serious denial thinking that our summers are not warming dramatically. We haven't seen a cool summer since 2011. I think only one year saw a "normal" summertime temp since that time. You can rank a heat wave based on hottest 4 day stretch, 5 days, 6 days, etc... So I've done that with Portland records which go back to 1940 at the airport. Here's part of my spreadsheet
For a 3-6 day heat wave, June 2021 beats this one. But that was a relatively short event. Last year's late July/early August hot week is still the hottest on record in Portland. Notice the ranking at Salem is a bit lower? That's mainly due to less urban heating around Salem airport. I don't think any of the top 5 heat waves in Salem occurred before 1941.
SMOKE THIS WEEKEND
Numerous large fires are burning out of control in British Columbia and our flow will be coming out of the north and northeast the next two days. The HRRR model's smoke output says tomorrow morning should feature clean air, but then a sickly/yellowish smoke arrives and thickens as the day continues. This loop shows the ground level smoke forecast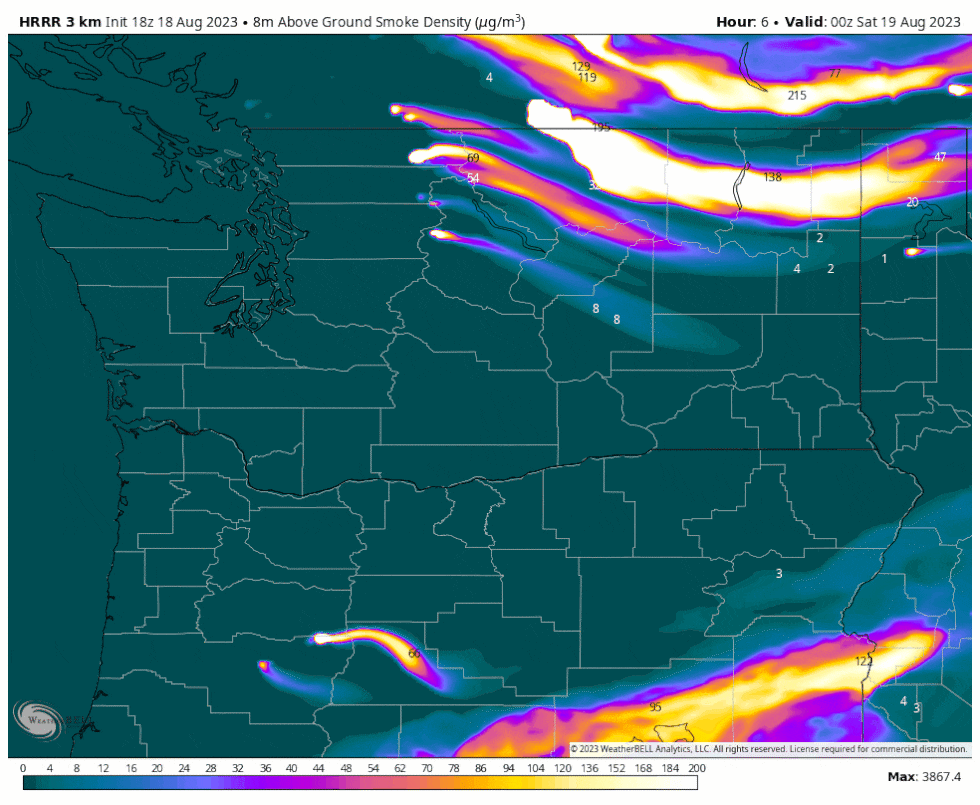 Expect that smoke BOTH in the atmosphere overhead and arriving at ground level too. This may hold temperatures below 90 on Sunday though, a small bit of good news
SOAKING RAIN FROM HURRICANE LEFTOVERS
This one is receiving a lot of attention because the leftovers of Hurricane Hilary will move through California and Nevada Sunday, then into far Eastern Oregon and Idaho Monday. I don't see any surface or much upper level circulation left by the time the storm is ripped apart by the Sierra Nevada and other mountain ranges. But a big blob of clouds and rain should bring a widespread soaking Monday for about 1/3 of Oregon. Here's the ECMWF model forecast for rain ending Monday evening
Taking the newly upgraded high-res ensemble forecast from the same model, that's a bit lighter but still a soaking
A good 1″ of rain over there is probably a good thing because it'll set back fire season a week or more. Notice we stay dry over/west of the Cascades. There will be no wind effects from this system because there's no leftover surface low pressure system to draw wind towards it. Just the usual westerlies continue blowing through the Gorge and down the east slopes of the Cascades.
Enjoy your weekend, and remember to get outside the first half of Saturday to enjoy the clear air....before the smoke arrives.
Copyright 2023 KPTV-KPDX. All rights reserved.