Comfortable for a couple days, then heat returns Thursday
Heavy rain over Eastern Oregon moves away tonight
Published: Aug. 21, 2023 at 3:31 PM PDT
Air quality greatly improved today and most of the haze has cleared out as well. Air quality continues to be poor in the Cascades and much of central Oregon though. That should see some improvements through the day tomorrow. The remnants of Hilary are still impacting eastern Oregon. Baker City has seen over 1″ of rain just through this afternoon. We are also seeing isolated thunderstorms in some of central Oregon. There are flood watches and advisories in effect for much of central and eastern Oregon through tomorrow afternoon. We'll continue to see scattered showers east of the Cascades tomorrow with thunderstorms possible.
We have a cooler day on tap for tomorrow. Expect to start with some clouds in the morning and then we'll see a partly cloudy day. Temperatures will be in the mid to upper 70s. In the evening there is a slight chance we could see a sprinkle or light shower in the Portland metro area, but very little would come of it. We'll be slightly warmer Wednesday, but still nice with temperatures right around 80. Morning clouds will clear to sunshine that day.
Another heatwave is possible Thursday through Saturday. Each day could climb into the low 90s, though Friday is a little iffy. It's possible we will just reach the upper 80s that day, but either way these will be hot days and nights will be warm in the upper 60s. Hood To Coast runners will have a hot day to start! WE continue to be very warm on Sunday and temperatures will be cooler on Monday, back to the mid to lower 80s.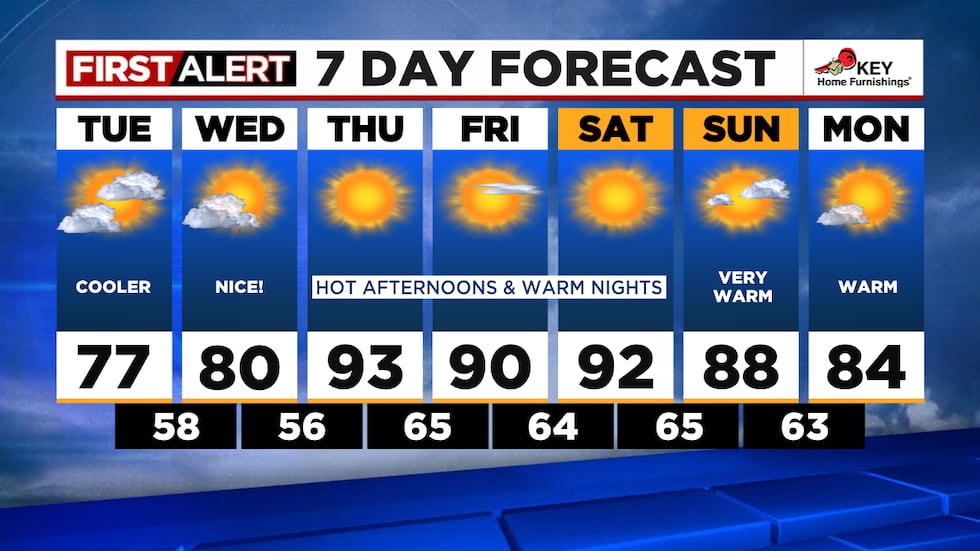 Copyright 2023 KPTV-KPDX. All rights reserved.