Another cool day with a few showers, more rain is expected on Thursday
Published: Aug. 29, 2023 at 3:26 PM PDT
Good afternoon,
I hope you've been enjoying an early taste of fall. I tried wearing a sweater on my afternoon walk today but ended up taking it off because I was too warm. I guess low 70s is still too warm for me for a sweater. 😉 Today is tracking a little warmer than yesterday, as of 3 pm we hit 73 at PDX. Although we've only had trace amounts of rain in Portland, we have seen .10″ in Salem, Astoria and Newport. Some showers will stick with us into the night and tapper off is we get into the early morning hours. Most of these will be on the east side of the forecast region, leaving those on the west side of I5 dry. Once we get through this shower chance early tomorrow morning, most of us will have mostly sunny skies and remain dry. Thursday is still trending as the day we have for the best chance for a good round of showers. Some of those showers will stick around until Friday morning before clearing up for a mainly dry day Friday. Saturday will remain our one day which as the best chance to be dry and warm before we get into a more sporadic pattern Sunday through Tuesday. Models are all over the place as to how the showers will fall, but none are showing wide-spread soaking rain. At this point we anticipate there will be scattered shower chances Sunday through Tuesday.
Temperatures will range from the high 60s to the mid-80s in the extended forecast. The coolest day will be Thursday and the warmest day will be Saturday. Overnight we will be at or above average all week and then we'll start to see cooler mornings in the mid-50s at the start of next week.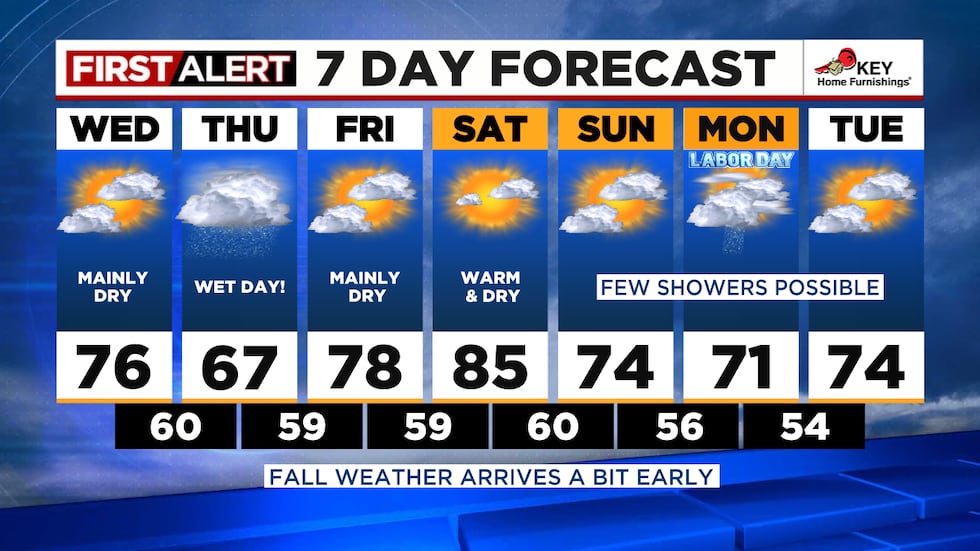 Copyright 2023 KPTV-KPDX. All rights reserved.