Not as hot today with even cooler temperatures ahead this week
Shower chance on Wednesday
Published: Sep. 16, 2023 at 5:13 AM PDT
Good morning,
What a day we had yesterday! The official high we reached was 95 in Portland. If that was just too hot for you, I have good news: today will be cooler with highs in the upper 80s. If this is still too warm for you, don't worry, Sunday will be even cooler - dropping down into the upper 70s.
Once we hit Monday, the high pressure will shift eastward and increase our onshore flow. This will give us even cooler temperatures in the mid-70s. We will hang out in the low to mid-70s through midweek, then warm back into the upper 70s to low 80s by next Friday.
Overnight temperatures will be on the warm side through the weekend in the upper 50s. As the upper-level low digs in and passes over this week we'll see our lows cool back into the low 50s - average right now is 54 - then warm back to average by Friday.
An upper-level low moves over Tuesday and Wednesday. This helps with the cooler temperatures and gives us a shower chance. Then Thursday it is back to dry and mild weather.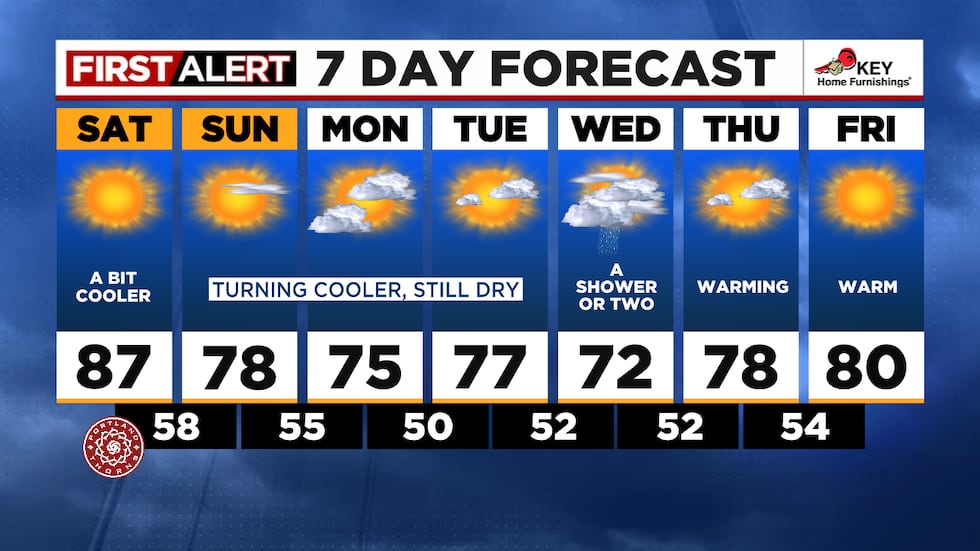 Copyright 2023 KPTV-KPDX. All rights reserved.