Cooler highs in store for the week
Published: Sep. 17, 2023 at 5:07 AM PDT
Good morning and happy Sunday,
Another very warm day is in the history books for the region. Even though it was nearly 10 degrees above average yesterday, it was still 10 degrees cooler than Friday!
Even cooler highs are expected today, possibly even 10 degrees cooler in the mid to upper 70s. The shift to onshore flow helps bring our highs back to near normal most of the week. Tuesday and Wednesday will be the coolest days we have this week in the upper 60s to low 70s.
Overnight temperatures will drop back a bit as well. Monday morning will be our warmest morning in the upper 50s, then we'll see several days in the low 50s before warming back to average going into next weekend. Lows at that time will be in the mid-50s.
A shower chance is still looking weak for Wednesday, but it's possible we get a sprinkle late Tuesday night or Wednesday morning. Central and northeastern Oregon have the best shot at seeing some rain this week, with a decent shower chances in those areas Thursday and Friday. Northeast Oregon could see a quarter to a half inch of rain in that 48-hour window.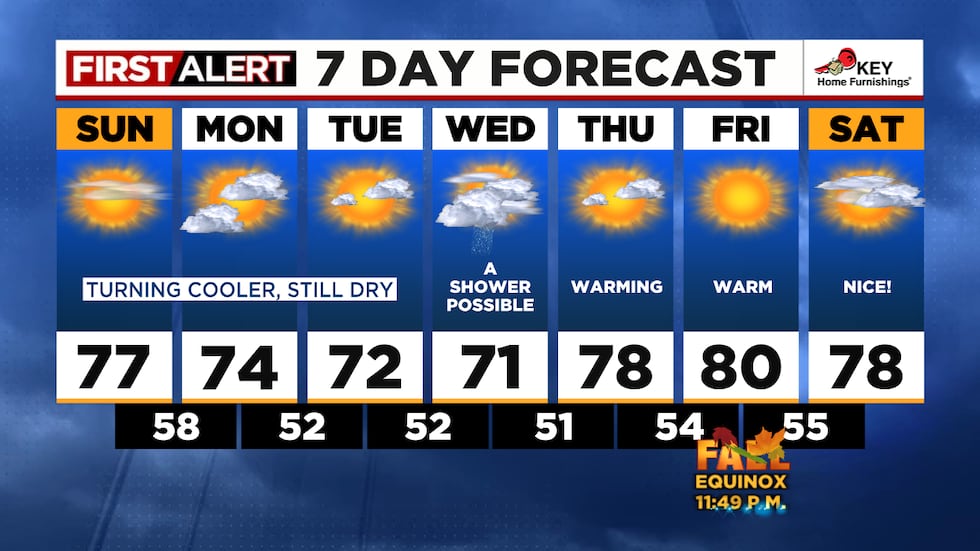 Copyright 2023 KPTV-KPDX. All rights reserved.