What follows four months of mainly dry weather? A much needed soaking on the way next week!
Published: Sep. 19, 2023 at 7:38 PM PDT
You've likely forgotten, but late spring was very dry in the Pacific Northwest. Almost no rain fell after the first week of May, then just under 1″ total in June. The dry season started early this year so all our native vegetation (trees/shrubs etc...) NEED a good soaking. I believe part of the color change we are seeing on some local trees is due to drought stress. Last year we didn't get a soaking until the 2nd half of October; luckily this year we'll get it 3 weeks earlier.
KEY POINTS
This is NOT the beginning of the wet season, but a much-needed soaking on the way starting later Sunday
Assume most (or all) days next week will be wet. A total of 1″ to 2″ rain is likely by the time September ends in the I-5 corridor from Longview to Eugene.

Expect a lot of clouds and highs in the 60s/70s next week

This weekend? A few light showers Saturday evening, then possibly much wetter later Sunday through Sunday evening. Timing of significant rain Sunday is still up in the air. Hopefully it'll be late in day

It appears we will probably get through this fire season without a dangerous east wind episode. A Public Safety Power Shutoff is far less likely in October after we get soaking rains in the forest

Fire season itself will be dwindling away, on life support after next week. Good news! We have avoided another big fire season even during a very hot/dry summer. It's all about timing of cooldowns, lightning, and hot spells
This graphic shows estimated rainfall just through Tuesday afternoon at PDX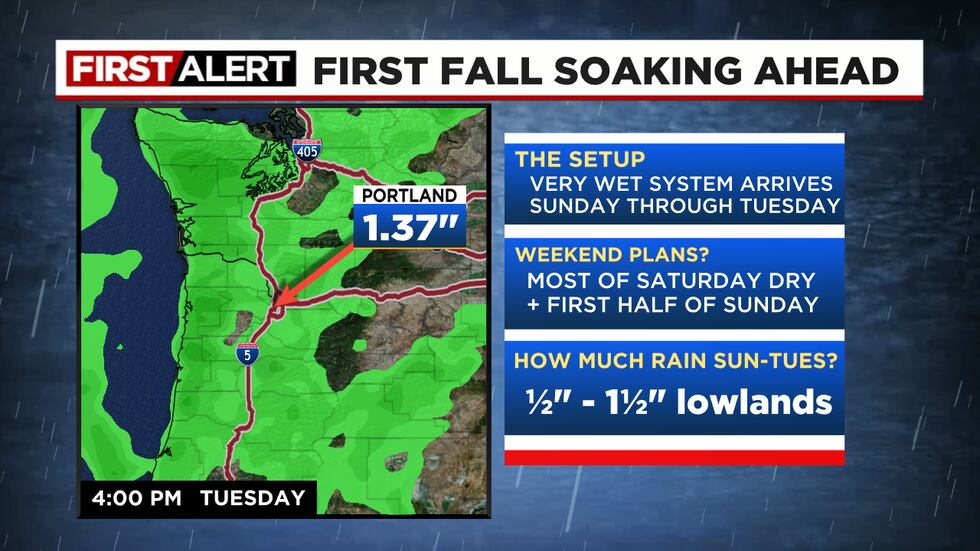 Make sure you enjoy the next few days, Thursday and Friday look like amazing early fall days as the jet stream remains up north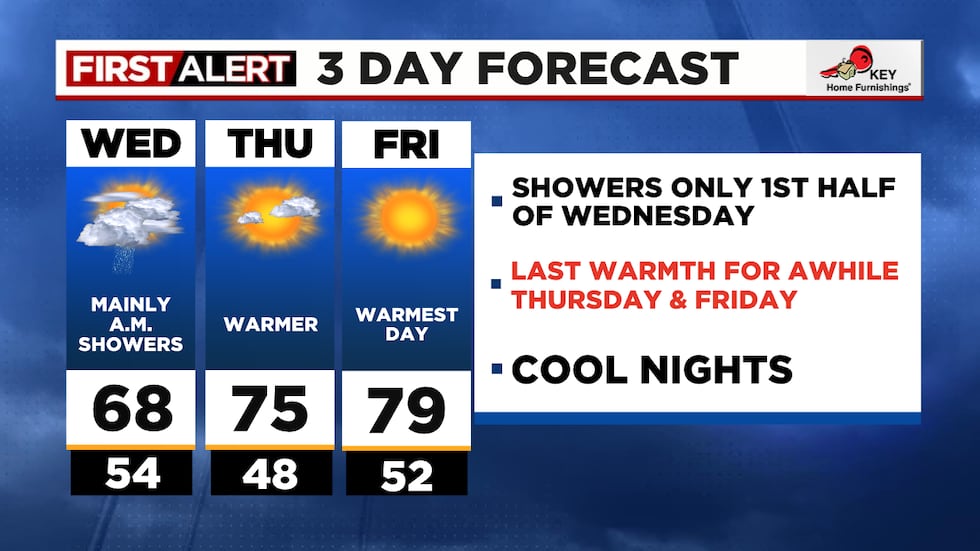 But then quite a change by Tuesday as a large trough is moving onshore
Ahead of this trough a moist/warm southwesterly flow sets up Sunday and Monday. Precipitable water values go WAY up as an atmospheric river snuggles up against the coastline. This isn't a "real" atmospheric river we typically see that lingers for 1-3 days and brings flooding; just a passing cold front that's "juiced up" a bit. Last cool season we had something like 60 atmospheric rivers impact the PACNW...the definition is a bit loose!
A 2nd upper level trough likely drops in later next week. The operational Euro thinks that happens next Thursday/Friday. This looks wet...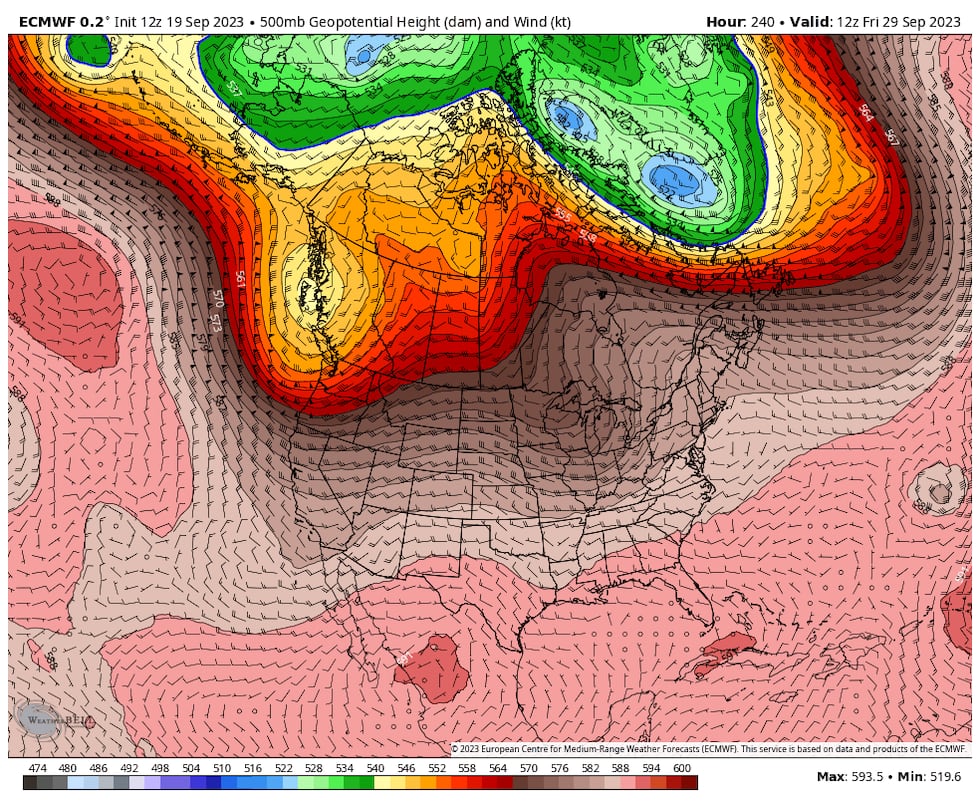 The 24 hour precipitation forecast from the Euro ensembles is very nice nowadays after the upgrade to 9km resolution. Here's the chart; each row represents ONE of 51 ensemble members. Hard to find a dry 24 hour period for at least a week starting Sunday.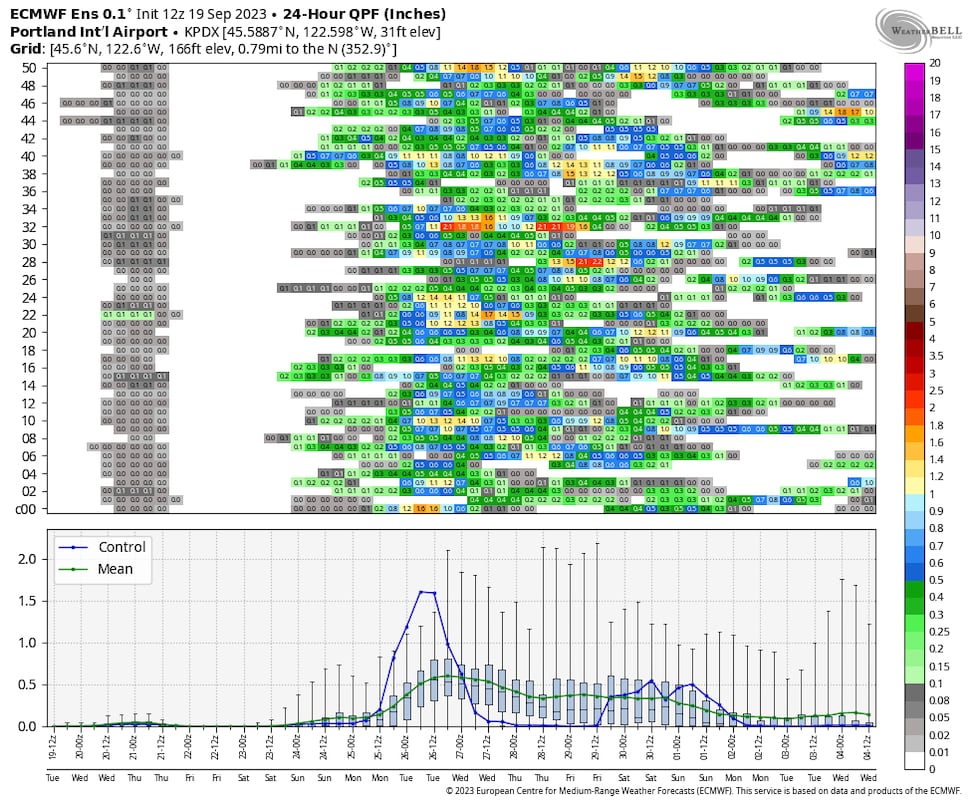 Another way to look at it? Use the 4 day rainfall total (ensemble average) through next Wednesday afternoon. In previous cool seasons these numbers have tended to be too high at times. We'll see if higher-resolution modeling and terrain help this time around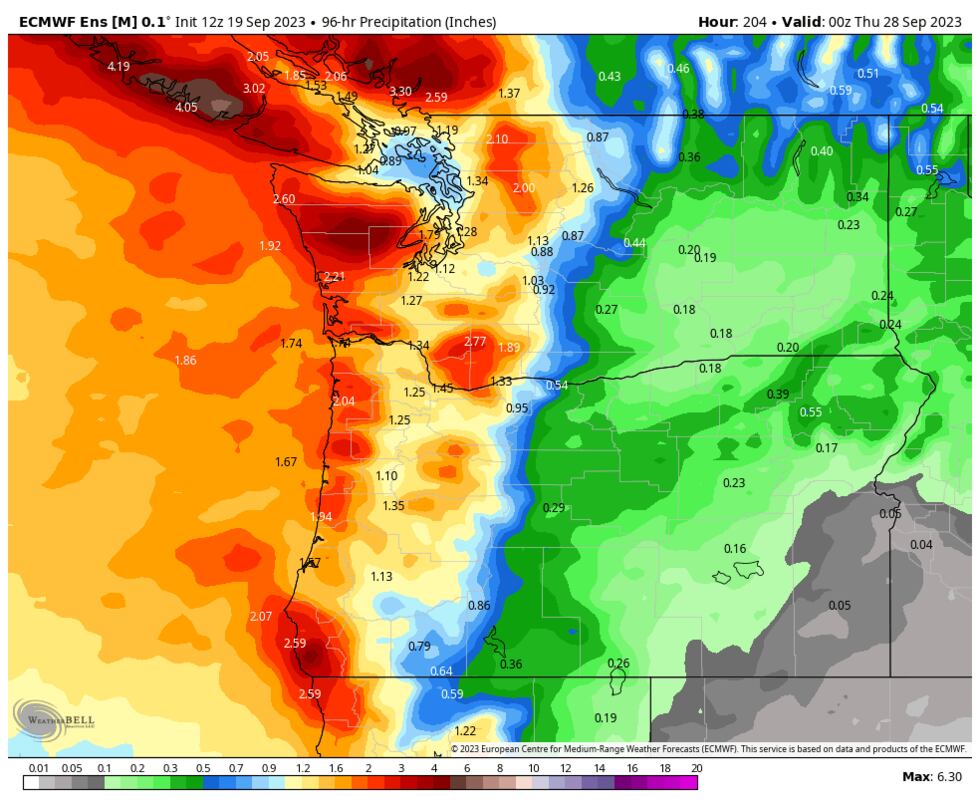 If we get 1-2″ (or more) rain in the last week of September, that won't be unusual. Check out the 10 wettest "final days" of September. I remember that soaker in 2013!
To wrap things up, we almost always get a soaking around this time of year, but it USUALLY doesn't mean we're into wet weather for the long haul. Of the top 5 years above, only two (1940/1951) featured a wet October. Most Octobers see significant dry spells. So hopefully we get a good soaking and then some nice sunny weather to follow
Copyright 2023 KPTV-KPDX. All rights reserved.