Union workers in Beaverton join UAW strike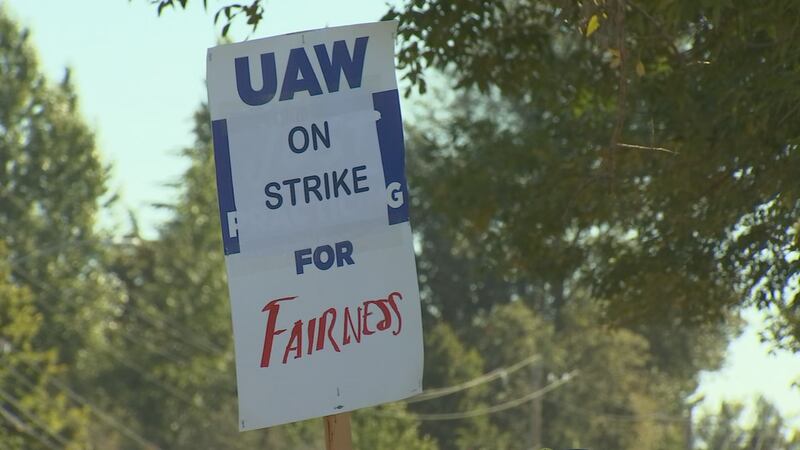 Published: Sep. 22, 2023 at 1:41 PM PDT
BEAVERTON Ore. (KPTV) - Friday morning at 9, union members from UAW Local 492 walked off the job at the Stellantis Parts Distribution Center in Beaverton as part of a nationwide work stoppage.
UAW has been in negotiations since June, 2023 with the Big 3 Automakers but has not seen sufficient movement to meet workers demands.
"We're planning to stay out as long as we need to win a fair contract," said Jill McCambridge, UAW Benefits Representative. "We're done accepting wages that don't keep up with the cost of living, and we're done tolerating a two-tier system for temporary workers. The companies we work for are making record profits so it's time to share with those of us who do the work every day."
After UAW President Sean Fain indicated on Facebook Live that this would be the next group to go on strike, workers in Beaverton have joined Stellantis employees who are on strike around the nation. Thousands of employees from Stellantis and General Motors who are covered by the UAW are currently on strike nationwide. UAW Local 492 and Ford employees are not currently on strike after Fain revealed that the Ford negotiations were moving forward.
"When the companies have made a quarter trillion dollars in the past decade and we're being asked to settle for wages that aren't keeping pace with the cost of inflation, something is wrong," said Sarah Smith, UAW member. "The Big 3 could double our pay, lower the price of cars, and still make billions in profits."
"This is an important time for our industry. As our country makes a needed transition to a green economy we have a historic opportunity to raise autoworkers standards instead of lowering them," said Local 492 President Rob Perdue. "Unfortunately as the Big Three corporations expand into EVs they're using it as an excuse to slash wages and undermine standards that generations of UAW workers have fought for and won. That needs to stop for all of our sake."
President Joe Biden will go to Michigan on Tuesday to support the union, according to a person familiar with his plans. The person, who spoke on condition of anonymity because the visit had not been announced publicly, gave no further details about the trip.
Ford avoided additional strikes because the company has met some of the union's demands during negotiations over the past week, UAW President Shawn Fain said during an online presentation to union members.
"We've made some real progress at Ford," Fain said. "We still have serious issues to work through, but we do want to recognize that Ford is showing that they are serious about reaching a deal. At GM and Stellantis, it's a different story."
The companies say they can't afford to meet the union's demands because they need to invest profits in a costly transition from gas-powered cars to electric vehicles. They have dismissed out of hand some of the demands, including 40 hours' pay for a 32-hour work week.
Copyright 2023 KPTV-KPDX. All rights reserved.