Rainy week ahead, bomb cyclone offshore, and surprising fire season numbers
Published: Sep. 22, 2023 at 8:19 PM PDT
Hopefully you took care of everything you wanted to get done before the first round of fall rain hits this weekend? The good news is that the first half of Saturday should be dry in the I-5 corridor, and even later Saturday won't be too wet. But that changes as we head into early next week.
HIGHLIGHTS
Rain this weekend will be quite light, and mainly confined to Saturday PM and midday/PM Sunday. I expect maybe just .10″ rain by sunset Sunday for many of us

A huge storm develops in the Eastern Pacific tomorrow night through Sunday night, but it'll be 500+ miles offshore. So no high winds from this first "bomb cyclone" of the season.

Rain totals by the end of next week should be in the 1″ to 2″ range in the western valleys; enough to give the top few inches of the ground a soaking.

We have avoided a dry/dangerous east wind episode early this fall. Whew! Once several inches of rain falls in the mountains in late September and early October, the soil/fuels won't be drying out like we see in summer.

Early-mid next week may feature one or more days with scattered thunderstorms and downpours. Someone may pick up a lot of rain in a short period of time
Today was AMAZING, considering the cool/showery weather ahead. PDX hit 79 under totally sunny skies. That's not happening for at least 8-10 days. Forecast is on track for the next week. A quick animation here shows the next 10 days up around 18,000′. Lines represent upper level flow, colors are "height anomaly". Basically warm colors are higher than average heights on this 500mb chart, cool colors lower than average. Notice a big upper level trough develops just offshore this weekend, sticks around all of next week in one form or another, then disappears the first few days of October. Then it's replaced by weak ridging. This is an "ensemble average" from the Canadian model.
As the trough suddenly deepens this weekend, at the surface a "bomb cyclone" forms Saturday evening through Sunday evening. The criteria for that is a pressure drop of at least 24 millibars in 24 hours. In this case that's around 992mb to 964mb on the Euro model. The lines are surface pressure contours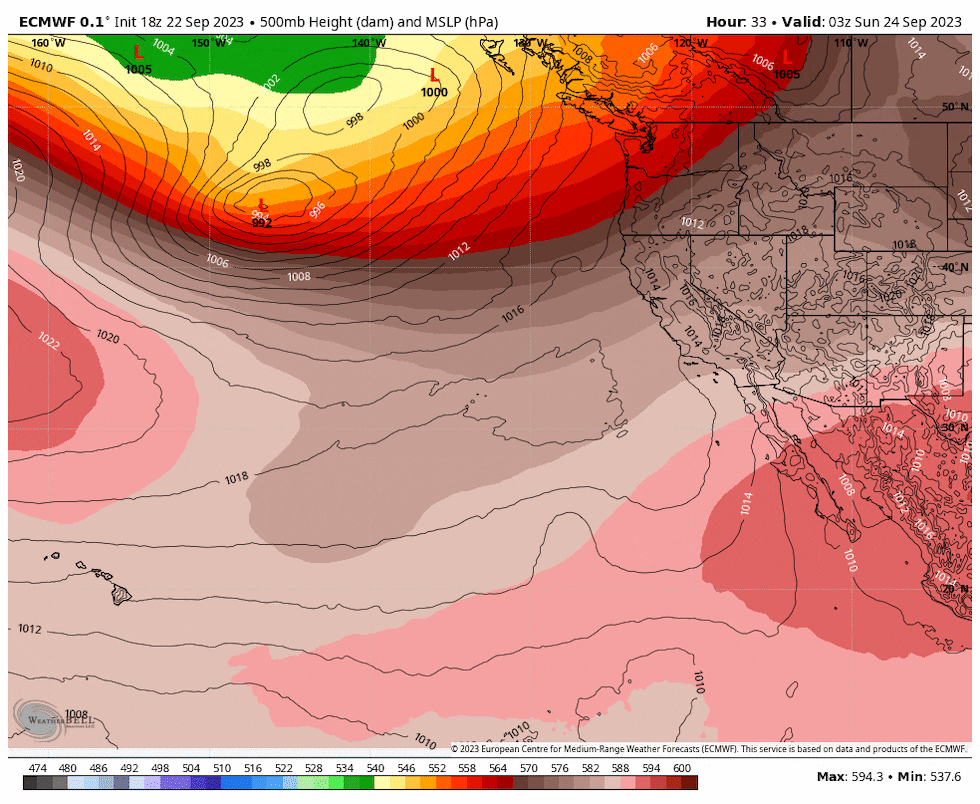 Bomb cyclone sounds dramatic, but they develop regularly in the North Pacific during the cooler part of the year. Luckily this one is so far offshore that most of our coastline sees gusts no higher than 30-40 mph on Sunday and Sunday night. The flow is a little bit too much out of the southeast which doesn't help (if you want strong wind). Notable is some easterly wind coming down off the Cascades in spots.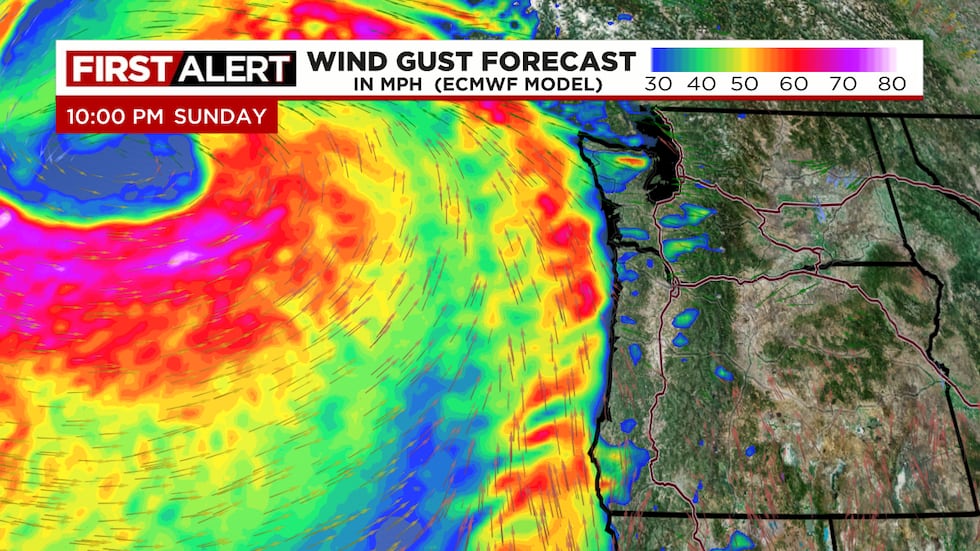 Following the cold front this system, an unstable atmosphere moves overhead Monday. That should be the first of possibly 3 days featuring scattered thunderstorms. Keep in mind we can get some big downpours in early fall since a warm-ish atmosphere can hold quite a bit of water! Also remember that funnel clouds can appear in spring/fall with these convective showers. If you even have video/pics to share, you can submit them through our app OR go here: https://www.kptv.com/page/submit-weather-photos/
Have you wondered if Septembers are getting wetter or drier? I can't find a clear trend over the last 100 years. Each year on the chart below is a blue bar, and the 15 year average is the line. Some Septembers are very dry (last year), and some turn quite wet. Often the really wet stuff is in the 2nd half of the month like this year
I doubt we'll get into the top 10 wettest Septembers since we're starting near zero right now
By the way, this fire season's acreage count is far below normal. Quite impressive for a hot summer and an early/dry start to the summer. I don't expect any major acreage increase heading into early October as this upcoming rain moistens even the large fuels in the forest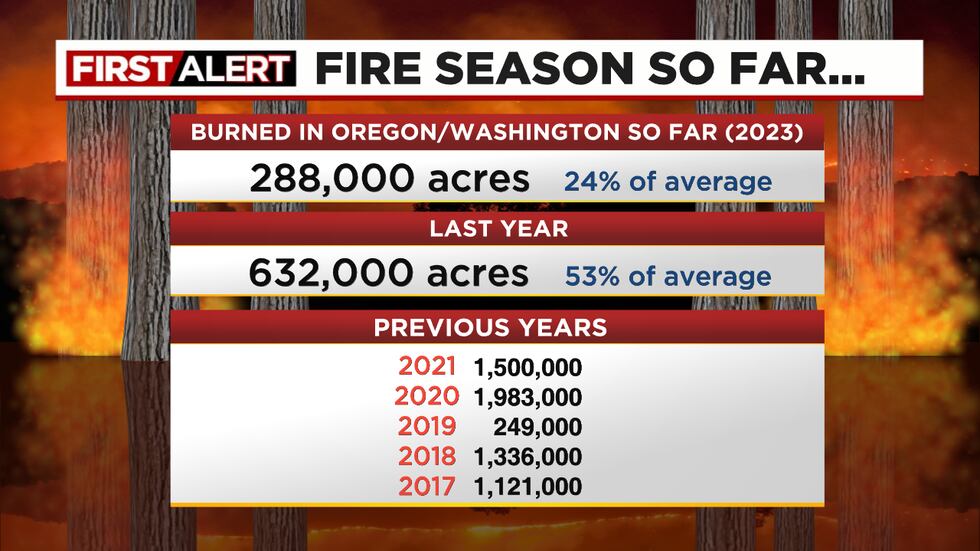 The weather team had a great discussion about the upcoming pattern during our weather podcast today. If you subscribe, it should have already dropped into your feed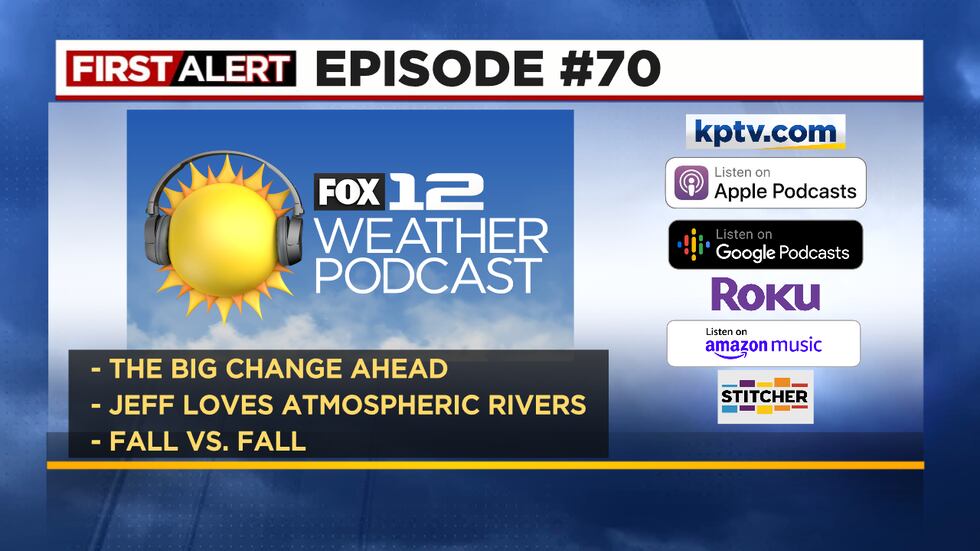 We are now adding graphics to our podcasts, so it's probably better to watch the video version nowadays. You can always find it on our weather page at KPTV.COM right here: First Alert Weather Podcast The first player on the top has the audio version, 2nd one (bottom) is the video version.
That's it for this evening. Enjoy the dry parts of the weekend and...make some soup for a showery Sunday afternoon
Copyright 2023 KPTV-KPDX. All rights reserved.