Wet, cool weather here to stay this week
Temperatures remain cooler than average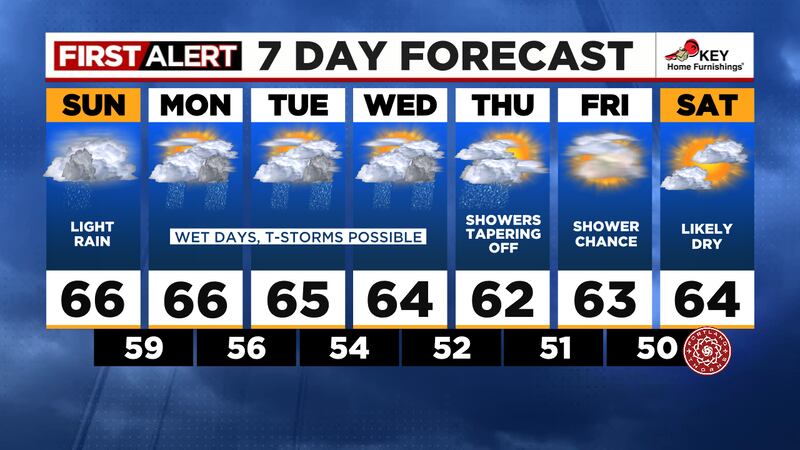 Published: Sep. 23, 2023 at 10:03 PM PDT
PORTLAND Ore. (KPTV) - We enjoyed dry weather for most of the day Saturday before the weak showers arrived later in the afternoon. We've only seen trace amounts at PDX, with heavier totals to our north and south. Kelso got a tenth of an inch, and Salem picked up more than a quarter of an inch of rain. High temperatures topped out in the upper 60s and low 70s in the Portland metro area.
Showers will eventually taper off later tonight, then pick up again tomorrow morning. It'll be pretty drippy all day Sunday, with Portland area rain totals expected around a tenth to a quarter of an inch. Highs will also be cooler- in the mid 60s.
The juicier system arrives late Sunday night/early Monday morning, which will ramp up rainfall rates a bit. It looks like we might get a brief break from the showers in the early afternoon before the next batch arrives in the evening. None of this rain looks very heavy as the main low pressure system stays quite a ways away to our northwest. It'll be pretty breezy along the coastline Monday and Tuesday night as these fronts push through, with gusts around 40 MPH possible.
Another shortwave comes through on Wednesday, so showers will likely continue through at least part of Thursday. With the unstable atmosphere, a thunderstorm or downpour could pop up anywhere Monday through Wednesday. Then it appears we could be drying out heading into the weekend.
High temperatures are staying much cooler than average this week! Models are hinting at a warm-up on the way beyond next weekend.
Copyright 2023 KPTV-KPDX. All rights reserved.