Green Bay woman sentenced to life without parole for murder, dismemberment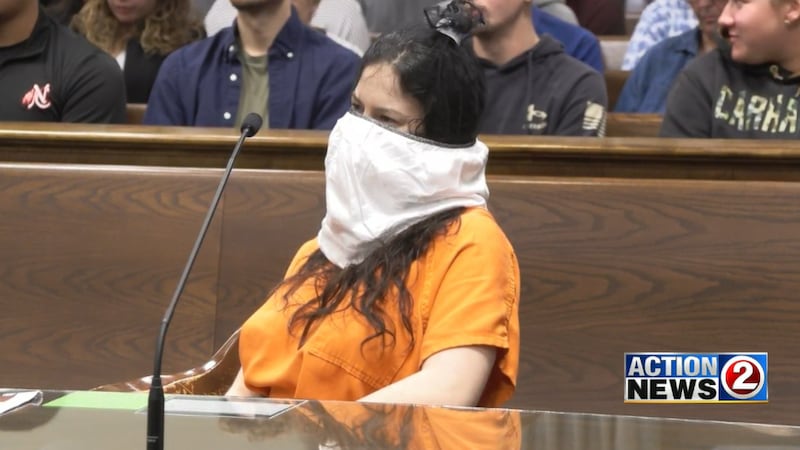 Published: Sep. 26, 2023 at 1:34 PM PDT
GREEN BAY, Wis. (WBAY) - A Wisconsin judge sentenced convicted murderer Taylor Schabusiness to life in prison without the possibility of any release on extended supervision.
To ensure she stays in prison, WBAY reports the judge added two consecutive sentences, adding 18 years to her sentence for the crimes of dismembering and sexually assaulting her victim.
Schabusiness appeared in court in what appeared to be a spit hood as she faced her sentencing for murdering and dismembering a Green Bay man in his mother's home.
A jury rejected Schabusiness's insanity defense when it convicted her of first-degree intentional homicide, mutilation of a corpse, and third-degree sexual assault in the death of Shad Thyrion.
The homicide charge carries life in state custody, but the defense fought to include extended supervision or parole.
"She's not a monster." Schabusiness's defense attorney, Christopher Froelich, told the court. He said at 25 years of age, there's time for rehabilitation.
Froelich said her client, who was rarely heard during court proceedings, would speak on her own behalf before the judge handed down the sentence. When that moment came, Judge Walsh asked if there was anything she'd like to say. She replied simply, "No, there isn't."
The judge listened to almost three hours of testimony and arguments about her mental health, her drug problem, her mother's death, her love for her child, and the need to protect the community. Judge Thomas said when he looked at Schabusiness's character, he looked at the severity of the crime, which "runs out of superlatives" to describe it. "This crime offends human decency. This crime offends human dignity."
Walsh said he watched Schabusiness's interview with police after her arrest and she appeared lucid and understood what was going on. "Everything was there," he said.
He said there are mitigating circumstances given Schabusiness's mental health and drug issues. "You are not responsible for where you come from, but you have to be responsible for where you're going," he said.
The defense first called Schabusiness's grandmother as a character witness at the hearing Tuesday morning. The grandmother and her husband are caring for Schabusiness's 2-year-old and are in the process of adopting him. Appearing via teleconference from Texas, she testified that Schabusiness was very happy after the baby was born in 2021, and was a loving parent, but child protective services wouldn't let Schabusiness keep the baby with her when she left the hospital.
She testified that Schabusiness has positive qualities, and she said people use Schabusiness. "She believes they care, but they don't."
She told the court she knows Schabusiness has to serve time for her crimes but hopes she can also have time to contribute to society.
The court also heard from her father, who came into the courtroom in a jail jumpsuit and chains. He said Schabusiness was affected by her mother's death, and he talked a little about her childhood, answering yes or no questions from the defense attorney.
Her father testified that she had mental problems and didn't respond well to medications. The defense asked him if he noticed psychiatric treatments improve every year -- perhaps a suggestion to the judge that there's potential for Schabusiness to be paroled in the future. Answering other yes or no questions, Schabusiness's father said she had the ability to love and that she should serve prison time for her crimes but have an opportunity for parole.
Later, Judge Walsh remarked it was ironic that her father, in an orange suit and shackles, said it was "the system" that failed his daughter.
The defense also called a pharmacology expert who's written books about the harm caused by prescription and illegal drugs, or what he called drug injuries. He was asked by the defense to assess Schabusiness for her chronic drug use and the harmful effects high doses of methamphetamine might have had on her mental health.
Schabusiness told him she was using meth and marijuana daily before the murder. He testified meth is highly addictive and can cause "drug-induced psychosis" -- a loss of touch with reality. The defense asked about Schabusiness saying she had 51 "hits" of meth that day, and the expert said he's never heard of someone using that much; he said he would need more context, like how much of a gram was used each time.
The prosecution took much less time making its arguments. The state said Thyrion's family was asking that Schabusiness shouldn't be eligible for release -- "and the state agrees," saying it would be appropriate to keep Schabusiness in prison for life.
He refuted the defense's continuing arguments about drugs influencing Schabusiness's actions. He pointed out she talked with police at length about the crime, which showed awareness. He said she hasn't shown any remorse, which speaks to her character and the possibility of rehabilitation in prison.
The prosecutor pointed to other drug-fueled crimes, including an arrest in 2020 for driving 80 miles per hour in the city of Green Bay. He said drug treatments after those incidents were ineffective and she cut off a monitoring bracelet. He used Schabusiness's own words, saying her actions were because she "liked it."
Copyright 2023 WBAY via Gray Media Group, Inc. All rights reserved.