Showers & isolated t-storms resume today
Gusty winds at times this afternoon, tonight & Wednesday A.M.
Published: Sep. 26, 2023 at 3:24 AM PDT
Good morning! A few showers are passing through northwest Oregon & southwest Washington early on this Tuesday, with plenty more on the way. Expect to see some sunbreaks in between the showers, which will help to warm temperatures into the mid 60s. Daytime heating will help destabilize our air, which will lead to more downpours and isolated thunderstorms. Some of the showers will be capable of gusty winds and small hail, & of course lightning if a thunderstorm were to develop. In addition, it'll turn pretty gusty this afternoon. Expect sustained winds between 10-20 mph in our western valleys, with gusts up to 30 mph.
Attention will shift to a rapidly developing low pressure system this evening & tonight. This weather system will race toward the mouth of the Columbia River, and should push onshore around sunrise. Due to the strength of this system, another burst of gusty winds are anticipated (plus several hours of steady rain). Wind gusts could reach about 40-50+ mph along the coast, and 25-40 mph inland. You'll definitely notice it Wednesday morning with showery, windy conditions. The wind should gradually let up during the afternoon, but showers should persist. Once again, highs will only reach about 65 degrees or so.
Showers should taper off Thursday, with several dry days in the forecast Friday-Sunday. Most signs point to clearing skies Thursday P.M., leading to prime conditions for fog formation. Expect lower visibility in spots both Saturday and Sunday mornings, followed by afternoon sunshine. Highs should range between the upper 60s and low 70s this weekend.
Sometime Monday is when the next round of rain will push in. We'll get a better handle on the timing of that system over the next few days.
Have a great Tuesday!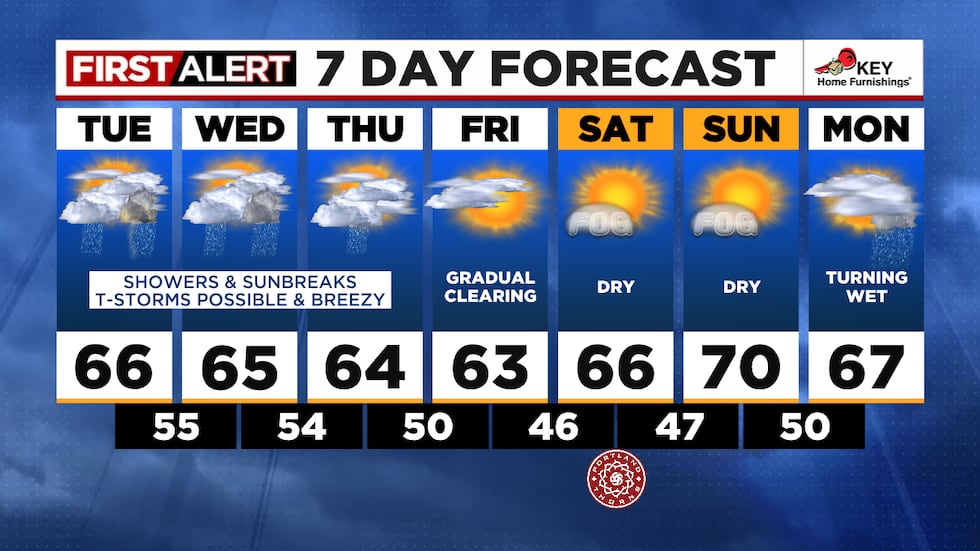 Copyright 2023 KPTV-KPDX. All rights reserved.