Showery, breezy day ahead!
Isolated thunderstorms can't be ruled out
Published: Sep. 27, 2023 at 3:17 AM PDT
Good morning! Our weather was quite active overnight with periods of heavy rain and gusty winds. This was all linked to an area of low pressure that strengthened quickly yesterday afternoon & evening. As this system raced toward the coastline, it brought a line of rain and wind gusts between 40-55 mph. That line of rain moved across our western valleys between about 1:30-3:00 A.M. I'm sure some of you heard the rain smacking your windows. Peak wind gusts have generally been in the ballpark of 25-35 mph inland, so nothing out of the ordinary for fall. Wind will remain breezy today, sustained at 10-15 mph with gusts up to 25 mph. It'll be showery as well with downpours mixed in. Isolated thunderstorms can't be ruled out. High temperatures should reach the low to mid 60s.
Scattered showers will continue to pass through northwest Oregon and southwest Washington between Thursday and Friday morning. Generally speaking though, our weather will dry out as we wrap up the workweek. Temperatures will remain on the cool side of things, running about 10 degrees below normal for late September.
If our skies clear out Friday night, there's a pretty high likelihood some valley fog will form heading into sunrise Saturday. The same can be said for Saturday night & Sunday morning. Each afternoon should feature a lot of sunshine though, and comfortable temperatures! Expect highs to range between the upper 60s and low 70s this weekend.
Clouds will move overhead on Monday, and I can't rule out a few showers sneaking in Tuesday afternoon-evening. Aside from that, I don't see any sign of a big soaker coming for about a week or so.
Have a great Wednesday!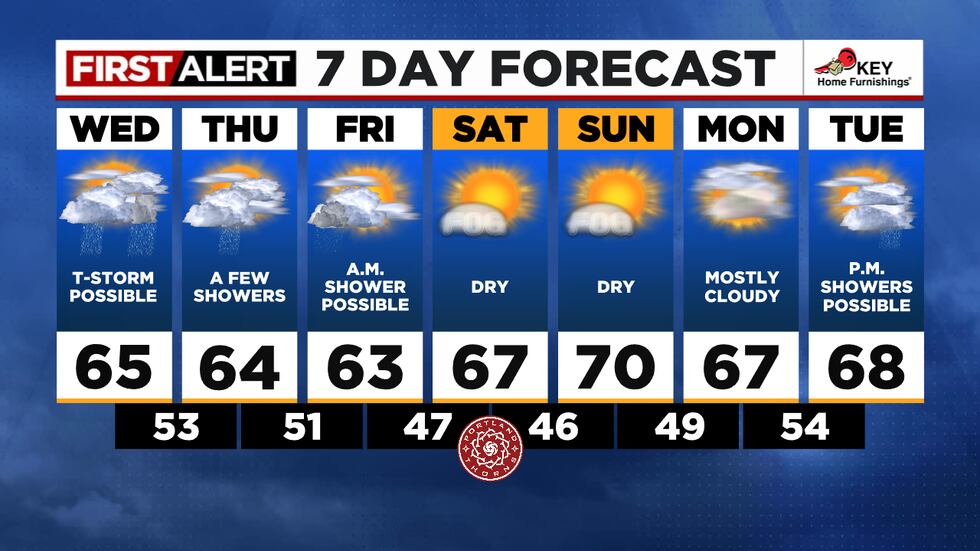 Copyright 2023 KPTV-KPDX. All rights reserved.