Few spotty showers Friday morning, then a dry weekend
Not much rain left over the next 24 hours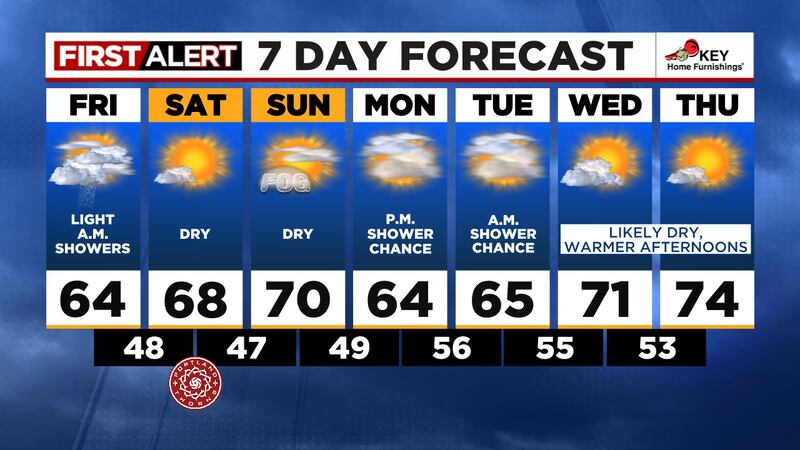 Published: Sep. 28, 2023 at 5:50 PM PDT
PORTLAND Ore. (KPTV) - As expected, it hasn't been too wet out there today and we did get some sun breaks around midday. Another round of scattered showers will be moving through the region this evening, but they're expected to be pretty light. Most metro area rain totals are under a tenth of an inch as of 3 p.m. Temperatures are hovering in the mid 60s.
A trough dropping in tomorrow will set off some light morning showers, but we're expecting conditions to dry out in the afternoon for the northern Willamette Valley, where rain totals should remain under a tenth of an inch. A few more showers may linger closer to Eugene and through central Oregon. Temperatures will once again top out in the low to mid 60s to wrap up the work week.
This weekend continues to look fantastic! A high pressure system will dominate our weather pattern, clearing the clouds and warming up our temperatures to about 70 degrees both Saturday and Sunday. We'll see plenty of sunshine, too. Morning temperatures will be really cool and crisp with those clearing skies- dropping into the 40s Saturday through Monday morning. This'll make for fantastic running weather for Portland marathon runners on Sunday! Valley fog will be possible in the morning.
We'll pull in a bit more marine air Monday/Tuesday as our flow turns more northwesterly, so plan on mostly cloudy skies and a shower chance early next week. There is a decent chance we stay totally dry. As the ridge of high pressure strengthens eastward midweek we'll see those temperatures climbing back into the 70s Wednesday and Thursday. That'll make for some nice, sunny afternoons!
Copyright 2023 KPTV-KPDX. All rights reserved.