One cool and drizzly day, then unseasonably warm temperatures on the way
Portland could see three consecutive days in the 80s this week
Published: Oct. 1, 2023 at 5:00 PM PDT
PORTLAND Ore. (KPTV) - Current (4 p.m.) metro area temperatures are in the low 70s- it's been another stunning day! It was a very chilly start though; PDX dropped to 44 degrees, which is the coldest morning low we've seen since May 8!
It'll be a nice, cool evening tonight. We're staying dry until late morning/midday Monday. A cold front will bring us drizzly showers for most of the day, with precipitation tapering off in the evening. Models are a bit all over the place with rain totals- some are forecasting less than a tenth of an inch, others are saying we could get more than a quarter inch. It will definitely feel much cooler out there, with temperatures topping out in the mid to upper 50s under gray skies. We're not expecting terribly windy conditions, but it will get gusty along the beaches.
Then we've got a stretch of dry, sunny weather on the way! That ridge of high pressure that will be building right over us has gotten stronger, so models are indicating three consecutive days in the 80s is very possible Thursday-Saturday. That's about 10 degrees warmer than average for this time of year.
The ridge moves out of our area Sunday, quickly followed by cooler air from the north. We'll start to see more clouds on Sunday and temperatures back in the 70s. Wetter weather will likely follow to kick off the next work week.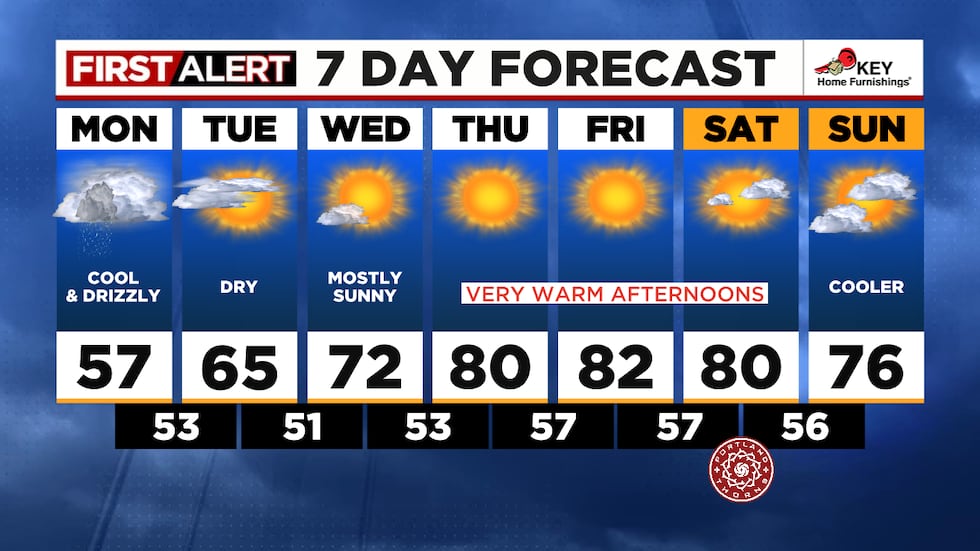 Copyright 2023 KPTV-KPDX. All rights reserved.