Drying out today, mild through tomorrow
Turning much warmer Thursday-Saturday
Published: Oct. 3, 2023 at 3:18 AM PDT
Good morning! Spotty light showers & areas of drizzle are still developing early on this Tuesday, and will probably stick around through midday in the Cascade Foothills. Cities along the I-5 corridor will gradually dry this morning, but clouds will be stubborn to clear. We should see the clouds slowly break this afternoon, with a partly cloudy end to the day. High temperatures will range between about 65-68 degrees.
Wednesday is going to be a tricky day in terms of the forecast. Low clouds and fog will be possible, and may stick around through at least part of the afternoon. Cloud cover will certainly dictate how warm or cool we are. If we clear out earlier, highs should reach the low 70s. If the clouds stick around through the early to mid afternoon, we may only reach the upper 60s. My gut tells me much of the metro area will stay below 70 degrees.
Much warmer weather is still likely Thursday through Saturday as a large ridge of high pressure expands over the West Coast. High pressure aloft will suppress cloud development, and a dry offshore wind will help boost up our temperatures. The warmest days should be Thursday and Friday with highs in the low to mid 80s. The breeze will actually make it feel pretty comfortable outside. Overnights will remain cool (in the 50s). We should hit about 80 degrees on Saturday, but the wind will settle down.
Sunday will be a transition day as the ridge begins to move east of our region. High elevation clouds will stream in, and afternoon temperatures will only reach the mid 70s. Sometime between Monday and Tuesday is when our next round of rain should arrive. We'll get a better handle on the timing of rain in the next few days.
Have a great Tuesday!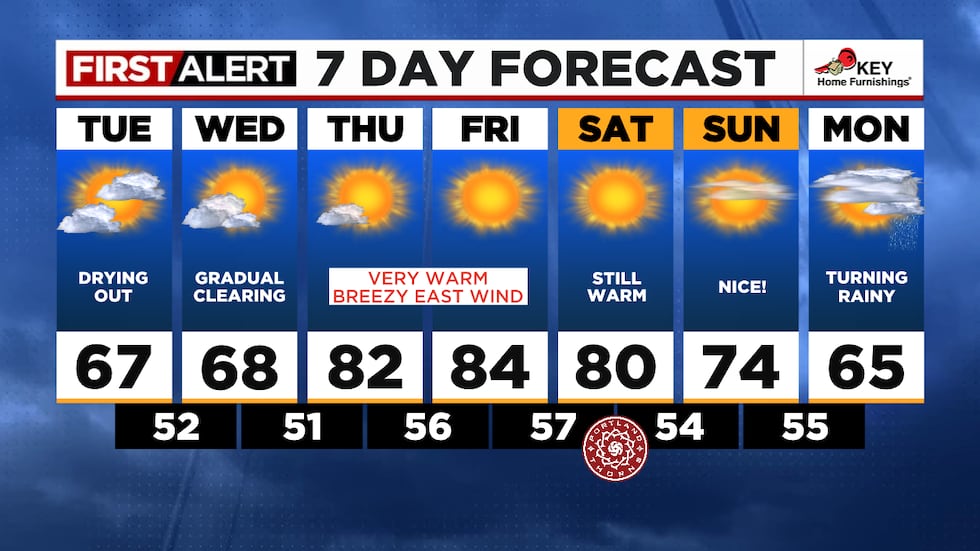 Copyright 2023 KPTV-KPDX. All rights reserved.