Oregon drug bust yields 24 arrests, enough fentanyl to kill nearly 150,000 people
Large quantities of meth, cocaine, marijuana also seized in Grants Pass drug trafficking investigation.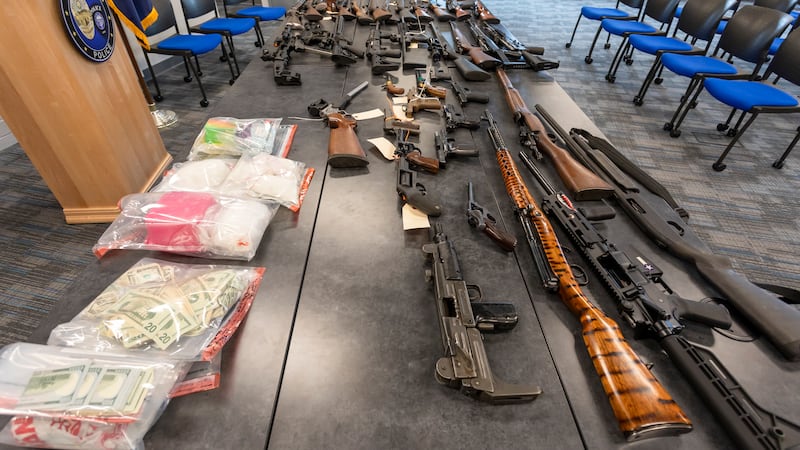 Published: Nov. 16, 2023 at 10:02 AM PST
An investigation into what authorities described as a major drug trafficking group based in southern Oregon resulted in two dozen arrests and seizures of guns, fentanyl, methamphetamine and other drugs, law enforcement agencies said Wednesday.
The Drug Enforcement Administration, Oregon State Police and the Grants Pass Police Department were among the agencies involved in the probe, which lasted more than a year. The agencies announced the investigation at a joint press conference in Grants Pass on Wednesday.
As part of the investigation, 24 people were arrested in Oregon on Tuesday, authorities said.
Officers seized 37 guns, 4.4 pounds of meth, 1.4 pounds of fentanyl pills and 0.11 pounds of fentanyl, Oregon State Police said.
That amount of fentanyl had the potential to yield more than 144,000 lethal doses, said David Reames, special agent in charge of the DEA's Seattle division. Just 2 milligrams of fentanyl can be deadly, according to the DEA.
Officers also seized 0.13 pounds of cocaine and 250 pounds of marijuana, state police said.
Before Tuesday, officers had already seized more than 9 pounds of fentanyl and 40 pounds of meth over the course of the investigation, state police said.
Reames said the investigation is ongoing.
Copyright 2023 KPTV-KPDX. All rights reserved.