A very S-L-O-W weather pattern continues through Thanksgiving
Not much mountain snow, and more dry than wet ahead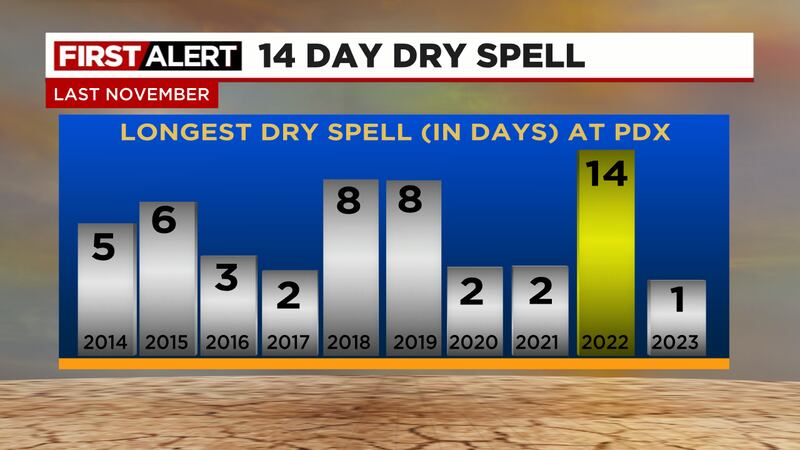 Published: Nov. 15, 2023 at 9:50 PM PST
After some heavy-ish rain early this month the weather action has really slowed down and I don't see this mild/mellow weather pattern changing through the four-day Thanksgiving weekend. We're always watching for "the big four" weather events that affect our lives in the cool season but right now we're seeing a lot of "NOPE"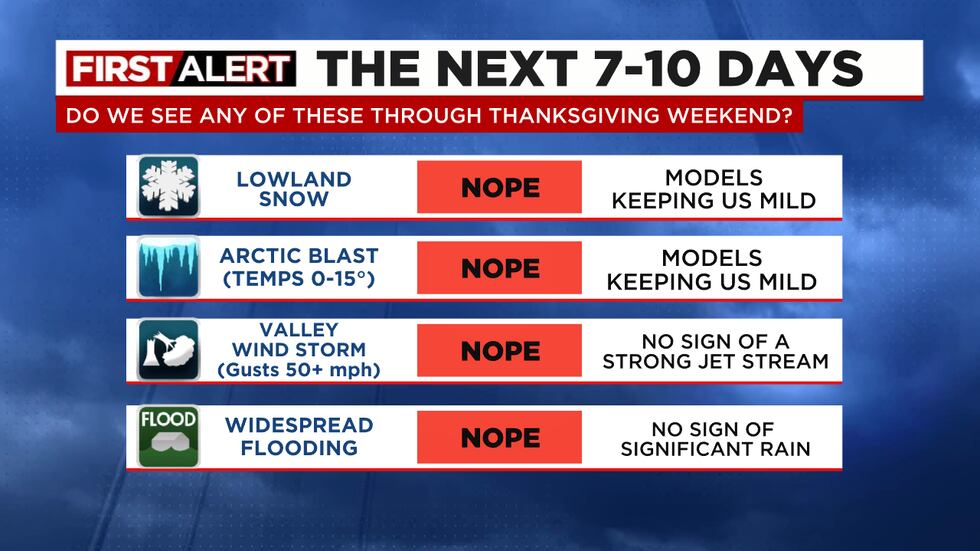 We are entering the last two weeks of meteorological fall. A quick check shows that we've been wetter and a bit warmer than average this year, but no extremes of either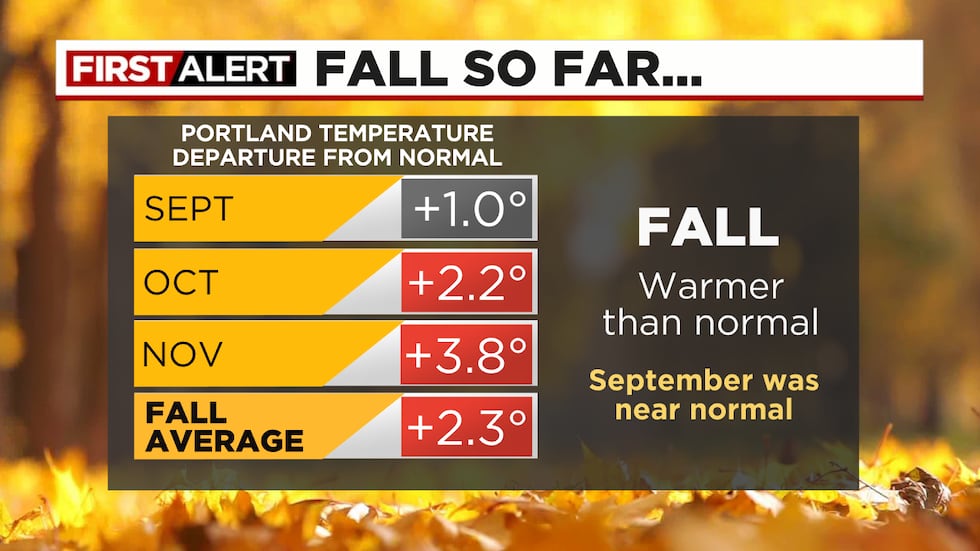 Why has the weather suddenly slowed down the past week and what's ahead? It's all about the weak and somewhat splitting jet stream. An upper-level low is sitting off the California coastline, cut off from the jet stream way up in Canada (black arrows). This is the forecast for Friday, but it looks about the same now. From the Canadian model (GEM) this evening
Over the weekend the ridge gets "dented" a bit by a passing upper-level trough. That gives us some weekend rain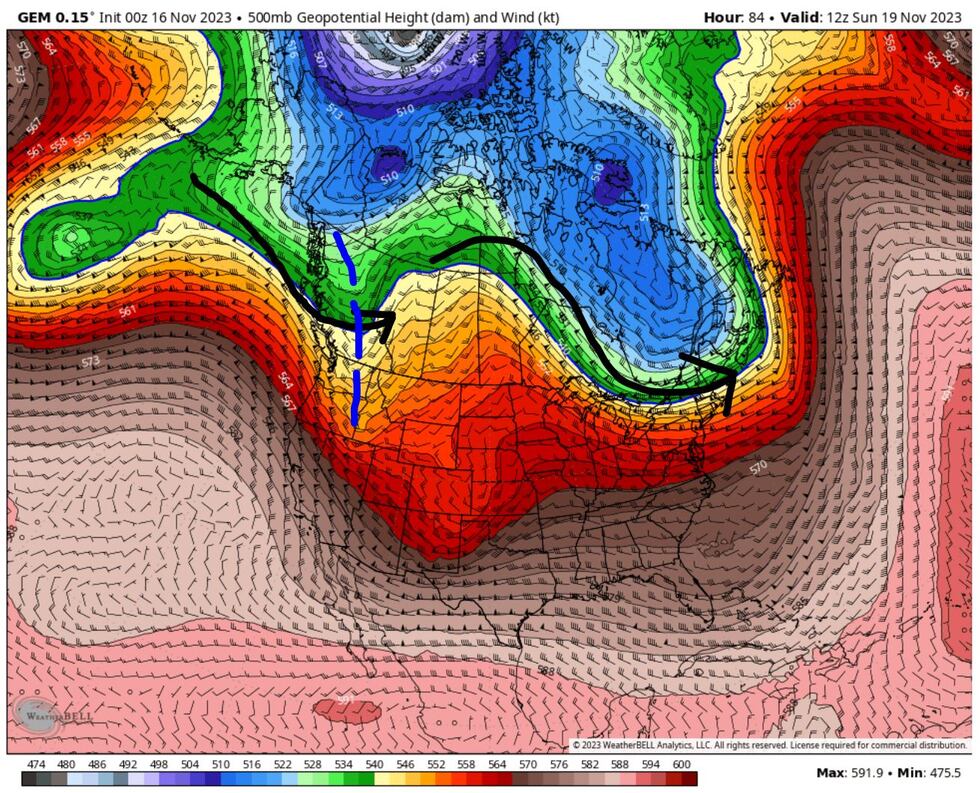 By Tuesday the upper-level ridge has popped up over us once again (the "zipper" is the symbol for ridging). Cold air is getting ready to plunge into the Midwest for Thanksgiving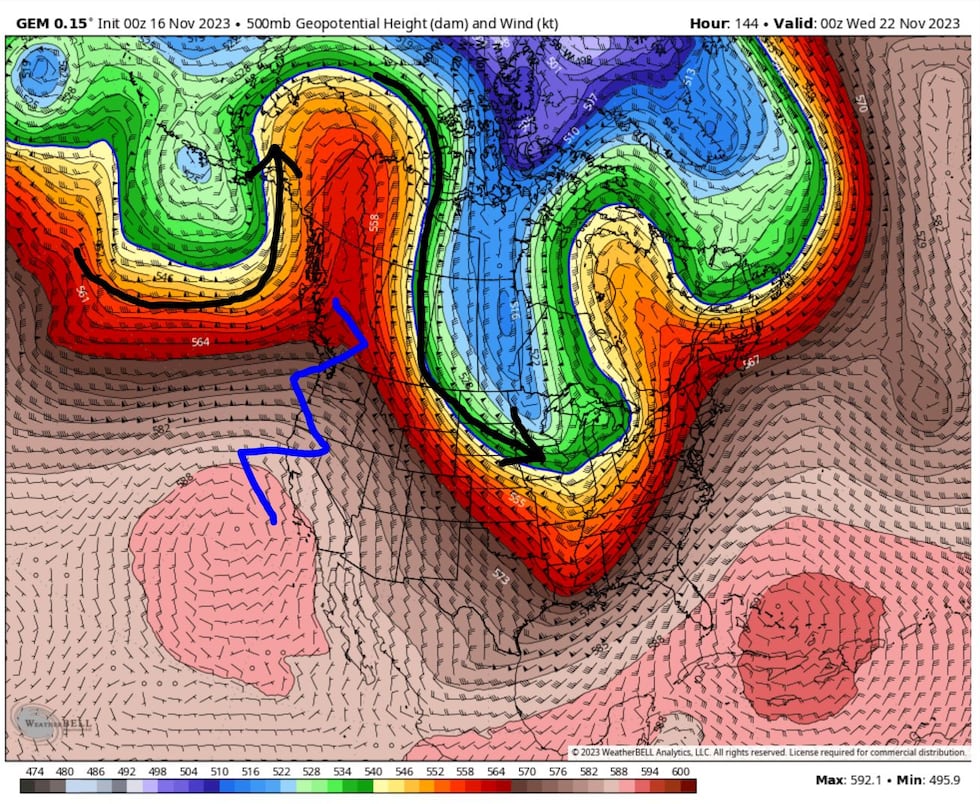 Finally, 10 days out this map is for the Saturday after Thanksgiving. Ridging is still there. At times we've seen some cold air forecast a bit closer to us than this model shows.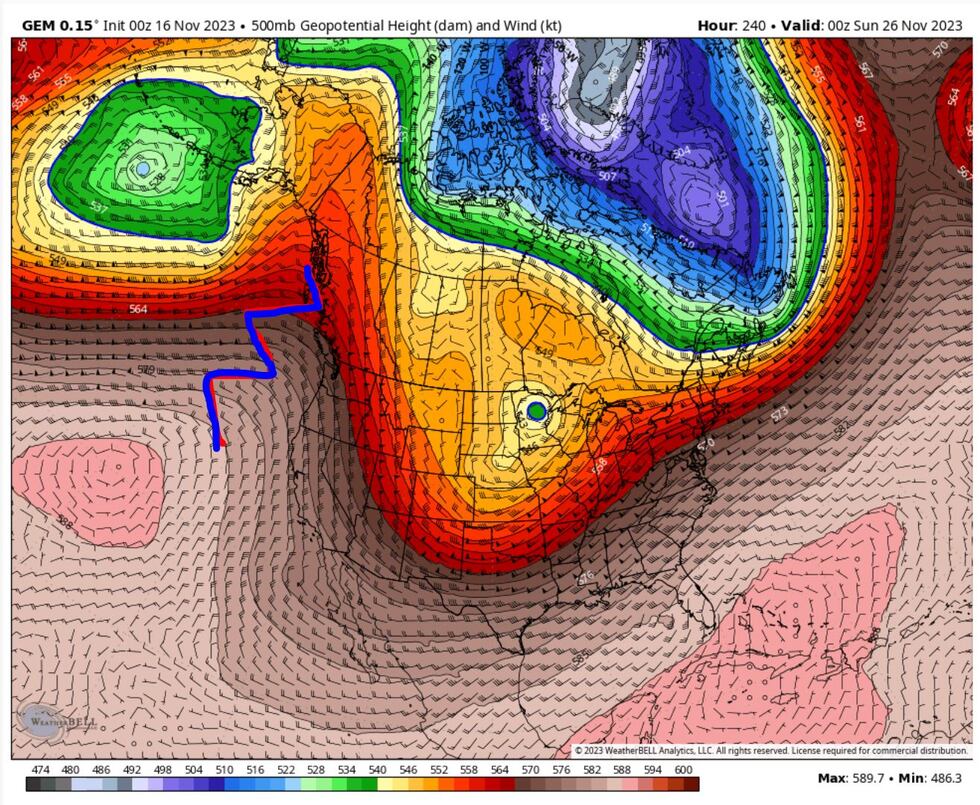 The effect is drier than normal the next 15 days (rest of November) on both the ECMWF and GFS model ensembles, the GFS shown here
Of course this is bad news if you were hoping for an early ski season start. That's not happening this year. Right now the resorts have 0-10″ on the ground, depending on elevation. I see less than a foot in the next 7-10 days...the ECMWF model here shows the forecast through Black Friday
So does this mean it'll be a terrible ski season? Of course not, what happens in early-mid November typically doesn't tell us much about what's ahead. Government Camp has seen just a couple inches of snowfall so far this November. Take a look at November snow during previous El Niño winters (since 1970) at Govy
I checked those 9 low-snow Novembers. 6 of those Novembers were followed by normal to above-normal snowfall in December. Only 3 saw continued low snowfall in December (1979, 2004, 2014). So a lack of snow in November DOES NOT mean we've got a bad ski year ahead.
That's it for this evening, it's a little too early to proclaim this mild/dry pattern as El Niño beginning to show its hand. We will see. Many of you will be stuck in low clouds and fog tomorrow. Sunshine will be mainly above 2,000′ and along the coastline and into the Gorge.
Copyright 2023 KPTV-KPDX. All rights reserved.